Diamond Glow
Consultations offered at our seven convenient locations in Brea, Costa Mesa, Glendora, Lancaster, Rancho Cucamonga, Whittier and West Hollywood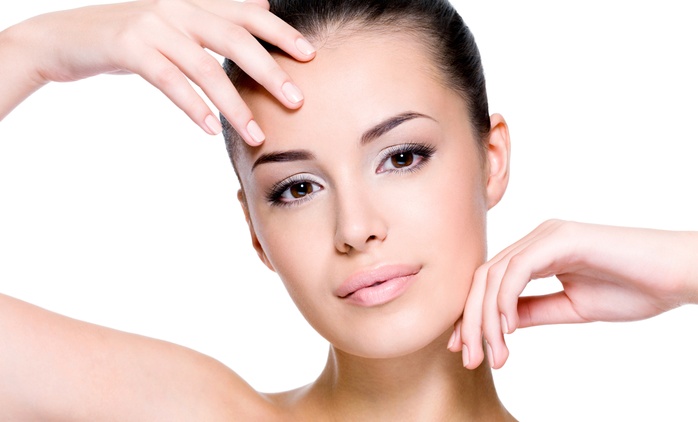 Diamond Glow is a facial treatment that combines exfoliation, extraction, and nourishing serum infusion in one relaxing session. In 2019 Allergan Aesthetics aquired Dermalinfusion and renamed the popular SilkPeel treatment. So if you loved SilkPeels, but haven't seen them advertised in a while, don't worry – you can still enjoy the same treatment, the same benefits, and now earn Brilliant Distinction points with Diamond Glow facials!
This innovative technology remains a popular way to improve the health and appearance of skin. During the treatment, a handheld device with a diamond tip exfoliates the skin, removing dead skin cells and impurities from the surface. At the same time, a vacuum system extracts dirt, oil, and other debris from the pores. Finally, specialized serums are infused into the skin to address specific skin concerns, such as hyperpigmentation, dryness, and acne.
In Brea, Costa Mesa, Glendora, Lancaster, Rancho Cucamonga, Whittier, and West Hollywood, patients can get a platinum-level experience at Skin Perfect Medical Aesthetics. This popular treatment for improving skin texture, reducing the appearance of fine lines and wrinkles, and enhancing overall skin radiance is just a phone call away. Call or text (562) 278-3202 (Whittier), (909) 281-9020 (Rancho Cucamonga), (626) 414-5194 (Glendora), (714) 278-3501 (Brea), (714) 278-3506 (Costa Mesa), (661) 382-3311 (Lancaster), or (323) 373-3149 (West Hollywood) or fill out this form to get started.
The Skin Perfect blog takes our patients on a journey into skin and self-care. Check it out!
Before and After Photos
About Diamond Glow
Diamond Glow offers a safe and painless alternative to invasive skin treatments, delivering remarkable results without side effects and discomfort. Unlike microdermabrasion, which exfoliates with abrasive microparticles that irritate sensitive skin, SilkPeel utilizes a crystal-free technique that is gentle on the skin and prevents pore blockage.
With SilkPeel, patients can achieve optimal results quickly, thanks to its unique ability to combine exfoliation with infusions of targeted topical solutions simultaneously, resulting in fresher, more vibrant skin.
The SkinMedica Pro-Infusion Serums used in a Diamond Glow treatment contain various active ingredients that penetrate deeply into the skin for optimal results.
Hyaluronic Acid – As the hyaluronic acid serum is infused into your skin during the SilkPeel Dermalinfusion treatment, gives your skin a boost of hydration for a optimal health and a dewy, moisturized appearance.
Salicylic Acid – Salicylic acid dissolves impurities to prevent acne and blemishes, leaving you with clear, smooth skin.
Vitamin C – The vitamin C serum fights discoloration, for a brightening effect, illuminating your skin with radiance and leaving it feeling revitalized and refreshed.
SilkPeel's advanced wet exfoliation technique uses a handpiece with an ultra-fine diamond tip. This gentle exfoliation removes dead skin cells and debris, allowing the serums to reach deep into the skin. This provides a silky smooth, hydrated, and youthful glow to your skin, fulfilling your desire for healthy, vibrant skin. It effectively targets imperfections such as age and sun spots, wrinkles, and dry skin, and clarifies acne-prone skin, delivering exceptional results with a safe and gentle approach. The treatment is suitable for use on various body parts, including the:
Face & neck
Chest/decolletage
Hands & feet
Legs
Back
Protecting Your Skin
The skin is a remarkable organ covering a vast body surface area, approximately 1.5–2.0 square meters! [1] As the first line of defense against the outside world, the skin has various protective mechanisms. The outermost layer, the epidermis, consists of tightly packed cells that act as a physical barrier to prevent harmful substances from entering the body. Despite its importance, the skin is often neglected or taken for granted. However, individuals can take many simple steps to maintain healthy skin, such as wearing protective clothing and sunscreen outdoors, avoiding smoking and excessive alcohol consumption, and staying hydrated.
While there are many ways to care for the skin, one of the most effective treatments to support smooth, healthy skin is a Diamond Glow facial. With regular treatments, the skin can become more resilient and better able to resist the effects of aging and environmental damage.
What are the Benefits of Diamond Glow?
The innovative SilkPeel, now known as Diamond Glow, offers many benefits, including:
Clarifying oily, blemish-prone, and acne-prone skin
Moisturizing dry and flaky patches
Reducing the appearance of fine lines and wrinkles
Brightening blotchy patches of skin
Revitalizing sun-damaged skin
Providing an overall boost to your complexion
The treatment is safe and gentle enough for all skin types and can be customized to suit individual skin concerns.
In a study conducted by the National Rosacea Society, 30 qualified patients with erythematotelangiectatic rosacea (characterized by persistent facial redness and visible blood vessels, a burning or stinging sensation, dryness, and flaking) or papulopustular rosacea (characterized by persistent facial redness, small red bumps, and pus-filled pimples, which may resemble acne) received treatments twice a month for 12 weeks. The results were promising, with all patients experiencing significant clinical reductions in erythema, papules, and pustules as early as week four of the treatment. [2]
Ideal Candidates
Do you look in the mirror and think, "I wish my skin could look better, but I don't want to go through a painful or invasive treatment?" Diamond Glow improves the skin's texture and appearance without the hassle of a complicated or uncomfortable procedure. The ideal candidate for Diamond Glow is someone who values the importance of self-care and wants to enhance their natural beauty.
Whether dealing with acne, sun damage, rosacea, or just looking to boost your skin, this facial is a safe, gentle, and effective solution that can leave you silky-smooth, hydrated, and bright skin. So, if you want dull, tired-looking skin to be a thing of the past, enter the era of fresh, youthful skin. But get ready for people to say, "Wow, you're glowing!" because Diamond Glow can leave you with radiance that will make you feel confident and beautiful. If you're ready to experience the benefits of this innovative treatment and turn back the clock on your skin, book your appointment today and prepare for the compliments to pour in!
Personal Consultation
During your personal consultation, our experienced professional will take the time to understand your skin concerns and goals and assess your skin's condition to determine if SilkPeel Dermalinfusion, now known as Diamond Glow, is the right treatment for you. We will explain the procedure in detail, including how it works, what to expect during the treatment, and how to care for your skin afterward.
To schedule your consultation, call or text (562) 278-3202 in Whittier, (909) 281-9020 for Rancho Cucamonga, (626) 414-5194 for Glendora, (714) 278-3501 for Brea, (714) 278-3506, for Costa Mesa, (661) 382-3311 for Lancaster, or (323) 373-3149 for West Hollywood, CA or fill out this form.
The Diamond Glow Procedure
During the treatment, you can relax and enjoy a gentle, soothing massage while we gently glide the device over your skin, targeting specific areas of concern. You'll feel a light suction sensation as the device exfoliates and infuses your skin with nourishing serums, leaving you with a refreshed and radiant complexion.
Step 1: Exfoliation
Step one is exfoliation, a vital process that removes dead skin cells, dirt, and impurities from the skin's surface. With the gentle yet powerful touch of the diamond tip wand, you can bid farewell to yesterday's dull, lackluster skin and say hello to a brighter, more youthful complexion. It's like giving your skin a well-deserved spa day, complete with a luxurious exfoliating massage that refreshes and rejuvenates.
As the diamond tip wand glides over your skin, it buffs away the old and reveals the new, paving the way for the infusion of condition-specific serums to follow. Step one is where the magic begins, and your journey to flawless, glowing skin starts here.
Step 2: Extraction
Step two removes impurities and debris deep within the skin's pores. The Diamond Glow wand extracts dirt, oil, and other impurities using a gentle vacuum-like suction, leaving your skin feeling refreshed. It's like a mini vacuum for your pores, unclogging and easily decongesting your skin.
The extraction process is safe and gentle, making it an ideal choice for those with sensitive or acne-prone skin. As the wand works its magic, you can feel the tension and impurities lifted away, leaving your skin light and rejuvenated. Step two sets the stage for the infusion of condition-specific serums that follow, ensuring maximum absorption and efficacy. Step two is vital to achieving flawless, glowing skin.
Step 3: Infusion
Step three delivers specially formulated serums into the skin to address specific concerns. The Diamond Glow wand is designed to simultaneously exfoliate, extract, and infuse, ensuring that the serum penetrates deeply into the skin for maximum absorption and efficacy.
This step is where the glow happens, as the serums work their way into the skin, delivering vital nutrients, hydration, and antioxidants. Whether you're looking to brighten, hydrate, or target specific skin concerns, this facial offers a wide range of serums tailored to your needs.
As the wand glides over your skin, you can feel the serum working its way into it, leaving it plump, supple, and radiant. Step three is the final touch in achieving flawless, glowing skin, ensuring you leave the treatment with a healthy, youthful glow that shines like a diamond!
Recovery
One of the main advantages of Diamond Glow is its fast recovery time. Unlike other skincare treatments that may require days of downtime, Diamond Glow has virtually no recovery time. This is because the treatment is non-invasive and does not cause any damage to the skin. After the treatment, you may experience mild redness or sensitivity, but this typically subsides within a few hours.
Results
The results of Diamond Glow are impressive for even the toughest skin concerns. One of the key factors that contribute to the effectiveness is the use of customized serums. The serums are tailored to each patient's specific skin concerns and are infused into the skin during the treatment. This ensures the skin receives the nutrients it needs to heal and rejuvenate.
In addition to its immediate results, Diamond Glow also provides long-term benefits. The treatment stimulates collagen production, which helps to improve the overall health and appearance of the skin. [3] With regular treatments, patients can achieve long-lasting results and maintain healthy, youthful-looking skin.
What is the Cost of a Diamond Glow Facial in West Hollywood, CA?
At Skin Perfect Medical Aesthetics, we believe that healthy, beautiful skin is within reach for everyone. We offer the latest and most effective skin care treatments, including Diamond Glow, to help you achieve your skincare goals. Book your consultation today to learn more about the cost and take the first step towards healthier, more radiant skin!
References
Vollmer D, West V, Lephart E. Enhancing Skin Health: By Oral Administration of Natural Compounds and Minerals with Implications to the Dermal Microbiome. International Journal of Molecular Sciences. 2018;19(10):3059. https://doi.org/10.3390/ijms19103059
Desai, T.D. & Moy, L.S. & Kirby, W. & Desai, A.D. & Kartono, F. & Roscoe, L.. (2006). Evaluation of the SilkPeel™ system in treating erythematotelangiectatic and papulopustular rosacea. Cosmetic Dermatology. 19. 51-57. https://www.researchgate.net/publication/287738836
Nusgens BV, Colige AC, Lambert CA, et al. Topically Applied Vitamin C Enhances the mRNA Level of Collagens I and III, Their Processing Enzymes and Tissue Inhibitor of Matrix Metalloproteinase 1 in the Human Dermis11Part of this work was presented in poster form at the American Academy of Dermatology, San Francisco, CA, March 10–15, 2000. Journal of Investigative Dermatology. 2001;116(6):853-859. https://doi.org/10.1046/j.0022-202x.2001.01362.x