KYBELLA
Consultations offered at our seven convenient locations in Brea, Costa Mesa, Glendora, Lancaster, Rancho Cucamonga, Whittier and West Hollywood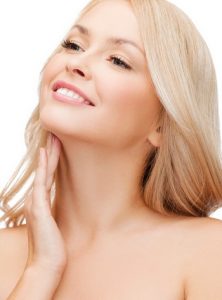 When someone has a double chin, it can give the impression of being overweight and can add years to their appearance. A double chin can be frustrating and can cause a negative impact on one's self-image. This troublesome region is often times one of the hardest places to reduce excess fatty cells which makes it difficult to specifically sculpt the under the chin area with dieting and exercise alone. To help with conditions such as this, there is Kybella.
With Kybella, an injectable fat reduction treatment, you can achieve a slimmer, youthful chin and neck. Please contact Skin Perfect Medical Aesthetics today and schedule a private consultation.
About Kybella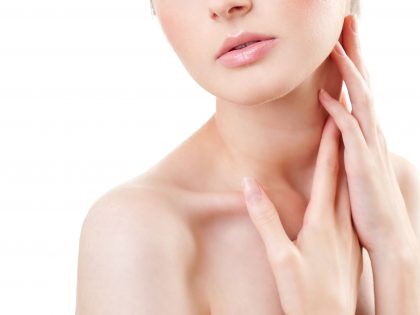 Kybella is a specialized injectable treatment that is designed to break down fat cells, leaving a leaner, sculpted chin profile. Kybella is a treatment that has an active ingredient called deoxycholic acid. The injection works in the fat layer under the skin to break down fat cells and reduce the thickness of the fat layer under the chin. Even if you are in good shape, eat well, and exercise, you can naturally possess a double chin.
Unfortunately, there is no such thing as "targeted weight loss" that you can achieve through any form of diet or exercise routine.
The treatment is a quick and convenient technique that reduces chin fullness. Fat deposits that develop under the chin can be a result of a number of factors, such as your genetics and aging. Fat under the chin is notoriously difficult to get rid of once you've got it. The impact of a double chin is subtle, yet profound. As an anchor point to your appearance, the chin plays a significant role in your overall facial profile.
When a double chin breaks the jawline and weakens the chin, your face may appear rounder and older. Sagging under the chin, sometimes referred to as a "turkey gobbler" also adds years to your appearance. Looking much older or appearing heavier than your actual weight can undermine your self-confidence. With Kybella, there is a convenient, effective solution.
Kybella is a unique treatment, and while there are other facial sculpting techniques, there aren't any that offer the same convenient capability as Kybella. Generally, best results are achieved after multiple sessions, depending on the amount of fat the individual patient has under their chin.
How Does Kybella Work?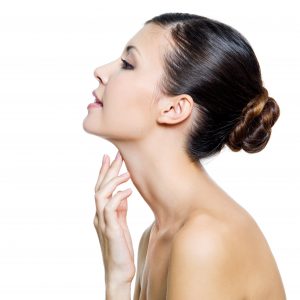 The incredible fat sculpting power of Kybella comes from its main ingredient: deoxycholic acid. Deoxycholic acid is a naturally-occurring metabolic acid in the liver. Kybella is made of a synthetic deoxycholic acid that is FDA-approved for breaking down submental fat under the chin. Submental fat is a term that refers to a unique area of fat that is located under the chin and above the neck. The submental fat layer is compartmentalized and linked to its central role in the aesthetic appearance of the neck. The appearance of excess fat and droopiness under the chin has a lot to do with the composition and thickness of the submental fat layer.
Deoxycholic acid has been in use in medicine for some time as a tool for breaking down fats. The way deoxycholic acid works is that it's natural properties break down the membranes of fat cells, which destroys the fat cells. The body undergoes an immediate inflammatory response that naturally removes the fat cells from the body. The fat cell removal process can take about three to six weeks after treatment.
Benefits
Kybella injections offer patients a number of benefits for treating submental fat. Kybella injections are effective, safe and do not involve surgery. The vast majority of patients report satisfactory results after their treatments. Without the need for surgery, patients can achieve significant fat reduction under the chin and return to their daily activities immediately.
Good Candidates For Kybella
Kybella treatments are recommended for those who are displeased with fatty deposits under the chin that give the impression of a double chin. For many people, this false double-chin make them seem overweight and throw off their facial shape. Kybella is for those who wish to eliminate this pocket of fat without having to undergo surgery.
If you are considering Kybella treatment, you should be in good overall health, at least 18 years of age and have realistic expectations for the procedure. The treatment is effective for all skin types and tones. Patients who do not have control of their weight may not be good candidates as future fluctuations in weight can have a negative impact on their results.
Kybella Vs. Liposuction
Kybella is a viable chin sculpting alternative to liposuction. Both treatments are great for reducing fat from underneath the chin in their own right but are not the same. Although liposuction is a well-known method for removing fat, it is a more-demanding process since it is a surgical procedure. With liposuction, an incision needs to be made to give a thin, hollow tube called a cannula, access to the fat layer for suctioning. The cannula is worked through the fat layer to suction out fat deposits while you are anesthetized.
On the other hand, Kybella treatments only require a series of injections during a session that can take as little as twenty minutes. Kybella treatments are also less taxing on the body so that patients can go right back to their daily activities. With liposuction, there is a recovery period, which can take longer than a few days depending on how much fat is removed.
Kybella Vs. Neck Lift
The Neck lift is another popular cosmetic procedure that deals with the appearance of the neck. Both Kybella and a neck lift can give patients a lifted, leaner, more youthful neck. The neck lift is also a cosmetic surgical procedure and involves removing excess skin to create a tighter, lifted look. The procedure is performed by surgically removing skin from discreet areas around the ears and jawline, while also lifting the skin for a tightened appearance. Anesthesia, incisions and a recovery period are all typical parts of a neck lift. Moreover, your recovery will be much longer compared to a Kybella treatment.
The simplicity of the Kybella treatment limits the impact of the treatment on the patient, yet still delivers great results.
Consultation
Patients near one of our locations in Southern California can schedule a consultation with Skin Perfect Medical Aesthetics and achieve a slimmer, lifted neckline. During a consultation, you can explain your aesthetic concerns, and one of our expert physicians will examine your chin and neck. During your consultation, you will need to review your medical history and be sure to point out if you're currently taking medication, are breastfeeding, or are planning further cosmetic treatments on your face, neck, and chin.
Any questions you have about Kybella can be answered, and you will be walked through the injection process. A customized treatment plan will be devised for you to help you determine which options will best help you to reach goals. Comparatively, Kybella is usually more budget-friendly for addressing this type of issue.
Kybella Procedure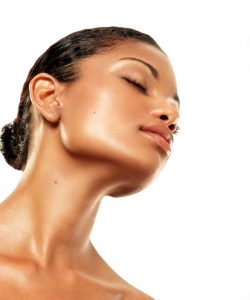 The beauty of the Kybella treatment is in its simplicity. On the day of your treatment, the chin will be thoroughly cleaned and prepped. A grid is drawn from the chin to the collarbone to serve as a map. Most patients report minimal discomfort during the injection process, but there are numbing agents available. The exact number of injections used will vary depending on the patient, but normally there are at least twenty to thirty and as many as fifty small injection sites. This gives a balanced and evenly spread out treatment and targets fat cells across a wide area.
The entire session can take as little as fifteen minutes. Some patients will experience a little bit of swelling or redness of the area under the chin, but this will quickly subside. Ice packs can help speed this process. After a session, there is zero downtime and patients can go back to their day as usual. Multiple injection sessions are typical and will vary depending on how much fat reduction is desired. Six sessions, no less than a month apart is a commonly recommended course.
Results
After about three to six weeks, your body will remove the destroyed fat cells from the treated area.
The results of your Kybella treatment will not be instantly visible but will take a few weeks to become apparent. As the fat cells are removed, the area under the chin is sculpted and appears lifted. Submental fat deposits shrink over time for a natural-looking profile. These fat cells are permanently destroyed and removed from the body and will not return. Barring future weight gains, your slimmer jawline and chin area will be long-term.
Cost

The cost of a Kybella treatment will vary between patients due to a number of factors such as the number of sessions required and the amount of excess fat under the chin. Some patients can opt for a combination of treatments to achieve more comprehensive results as well. Scheduling a consultation is the best way to determine which package will best be suited for you.