Emsculpt
Consultations offered at our seven convenient locations in Brea, Costa Mesa, Glendora, Lancaster, Rancho Cucamonga, Whittier and West Hollywood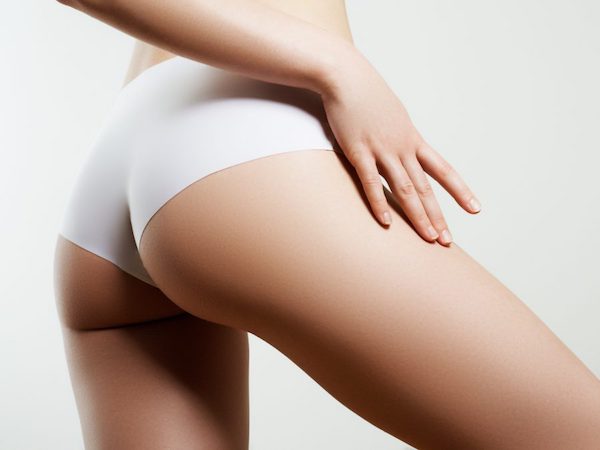 Do you struggle to tone your body at the gym? Get rid of your frustrating fat and build athletic muscle tone in only thirty minutes with Emsculpt!
If diet and exercise have not made the changes you want, Emsculpt will help you get beach body ready. This cutting-edge technology both burns fat and creates muscle definition, without incisions or downtime.
Emsculpt can be used to tone the buttocks, abdomen, flanks, or thighs. To learn more about this convenient treatment, schedule a private body contouring consultation at a Skin Perfect Medical Aesthetics location near you.
How does Emsculpt Work?
This treatment is safe and FDA-approved.
Emsculpt burns fat and builds muscle using targeted application of high-intensity focused electromagnetic energy. The high-intensity focused electromagnetic energy, or HIFEM, triggers super-fast muscle contractions of the desired muscle group, an action known as supramaximal contractions. This is the equivalent of 20,000 crunches or 20,000 squats! The increase muscle activity builds muscle fiber as well as boosts metabolism. As a result, the body begins burning fat in the treated area to help it recover from the intense workout.
Patients increase muscle mass by 16% and reduce fat by an average of 20% from the targeted area with Emsculpt.
A typical Emsculpt treatment consists of four sessions, spaced two to three days apart. No downtime is required after Emsculpt! Sessions are thirty minutes. Patients are able to return to work and their usual schedule immediately after their Emsculpt appointment. Emsculpt's advanced technology will stimulate your body's own natural muscle-building and fat-burning power, for results that are natural and all You!
What can Emsculpt Do?
Emsculpt's 30-minute non-invasive treatment can:
Fight belly fat
Deliver six-pack abs
Boost the buttocks for a non-surgical butt lift
Tone the thighs
Sculpt the flanks
Firm the upper arms
Emsculpt often raises patient metabolism, enabling patients to burn fat more quickly following their treatment.
Candidates
Emsculpt is designed to help healthy individuals achieve their goals for their physique. Candidates for Emsculpt are those who have completed the majority of their intended weight loss and are within thirty pounds of their target weight. Men and women who work out and eat healthily but still struggle to build muscle and burn fat are excellent candidates for Emsculpt.
Ideal candidates for Emsculpt are those who have positive but realistic expectations of their treatment outcomes.
If you are pregnant or have an electronic implant in the area you would
like to treat, let your Skin Perfect doctor know during your
consultation. They will be happy to help you find a body contouring
solution that is best and most appropriate for you. Patients with
epilepsy or a history of hermoragging are not good candidates for
Emsculpt.
Women are advised to avoid Emsculpt during menstruation, as the HIFEM energy can exacerbate menstrual cramps.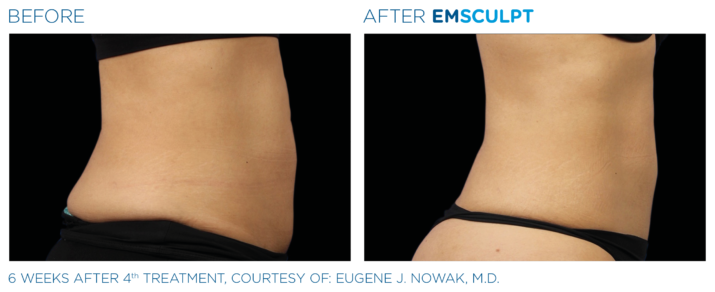 Consultation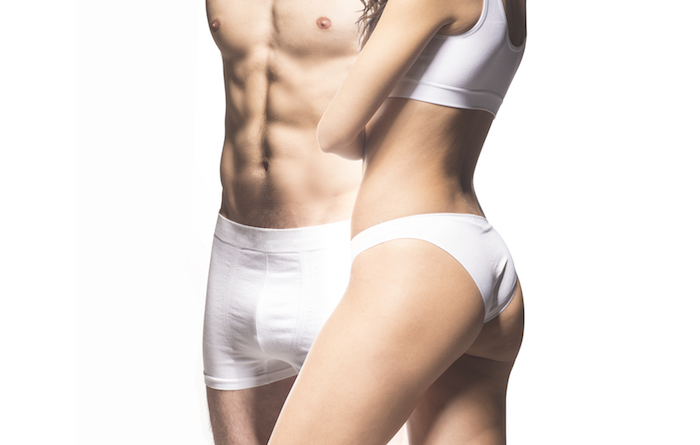 Your Skin Perfect doctor will meet with you to discuss the many benefits of Emsculpt and answer any questions you may have about the treatment process. Your doctor will examine the area you would like to treat to determine if Emsculpt is the right body contouring option for you.
They will also assess your health profile and medical history to make sure Emsculpt is appropriate. Based on their examination and your personal goals, your doctor will customize an Emsculpt treatment plan that will transform your buttocks, abdomen, flanks, thighs, or arms into your ideal toned, fit shape.
Body Contouring at Skin Perfect Medical Aesthetics
You only live one life: you deserve to look and feel your best! Skin Perfect Medical offers a variety of cutting-edge body contouring options to help their patients optimize their figures to their preferred, most flattering shape.
Popular body contouring treatments at Skin Perfect Medical Aesthetics include:
CoolSculpting
If you are mainly frustrated by stubborn fat on your body , consider freezing your fat away with CoolSculpting! CoolSculpting is a non-invasive fat elimination procedure based on the science of cryolipolysis. Harvard scientists discovered that fat cells, when exposed to targeted cold temperatures, break down within the body and are then disposed of through natural processes. No downtime is required after CoolSculpting!
The procedure is comfortable and takes less than 45 minutes.
Your body breaks down and eliminates your fat over the weeks following the treatment. Patients see up to 25% fat reduction after a single treatment. Best results are usually seen within three to four sessions, spaced four to six weeks apart. The number of treatments a patient receives will depend on their goals and their CoolSculpting specialist's professional recommendation.
Cellfina
The Cellfina System battles cellulite by cutting the fibrous bands that pull down on the skin, creating the dimpled appearance of cellulite. The procedure is minimally invasive and performed with a local anesthetic. Minimal downtime is needed.
A single 45-minute treatment delivers smooth results that last an average of three years, or more!
Sculpsure
Sculpsure is a non-invasive fat-elimination procedure that uses targeted laser energy to melt stubborn fat deposits. The body processes and expels fat through natural systems over the weeks following the treatment. Sculpsure takes only 25 minutes to perform and can treat up to four areas at once. A single treatment eliminates up to 25% of fat in a targeted area. Patients enjoy smoother, sleeker body contours within six to twelve weeks.
Preparation
No preparation is required before Emsculpt! Simply arrive a few minutes before your appointment at the Skin Perfect location near you. Some patients find they have a more comfortable treatment if they do not eat immediately before their treatment. If you have questions prior to your Emsculpt appointment, please do not hesitate to contact us.
Procedure
Emsculpt is a comfortable in-office procedure. The treatment is completely non-invasive and takes only thirty minutes. Patients will sit or lie on their stomachs while the Emsculpt applicator emits controlled electromagnetic energy to the treatment area. Patients feel no pain. You will be aware of your muscles contracting, but will not feel discomfort. The supramaximal muscle contractions will stimulate fat burnoff, beginning the fat breakdown in the treated area. You can watch a show, read, or simply relax while Emsculpt goes to work on your fat and muscle.
Recovery
No downtime is required following Emsculpt! Patients are free to get right back to their day after their treatment. Athletic patients may feel some soreness following their Emsculpt treatment, while patients who are active less frequently may experience pronounced muscle soreness, as if they completed an intense workout.
Some patients may feel fatigued after their session, as if they just finished a long exercise routine.
Do not work out your treated area for 24 hours following your Emsculpt session in order to allow your muscles time to recover. Patients often decide to hit the gym after Emsculpt to continue to reap the benefits of their raised metabolism. If you do decide to work out after your treatment, let your treated area rest.
Results
Do you dream of six-pack abs? How about a firm, lifted buttocks? In four, 30-minute sessions, your dream body can become a reality!
You will begin to see a change in the treated area within two to six weeks of your initial Emsculpt treatment.
The HIFEM technology will stimulate muscle growth by up to 16% and achieve up to a 20% reduction of fat from the targeted area. Emsculpt cuts fat, defines the abdominal muscles, and lifts the buttocks. Your convenient, personalized Emsculpt treatment plan can tone your arms, firm your thighs, and help you put the finishing touches on the athletic, healthy body you have been working toward.
Results of Emsculpt will develop over a six month period. These results are real! Patients will enjoy reduced fat and larger, stronger muscle mass.
In order to maintain your Emsculpt results for months after your treatment, maintain a balanced diet and active lifestyle. Patients have the option of maintaining their results for the long-term with subsequent Emsculpt treatments. Your Skin Perfect Medical Aesthetics doctor will work with you to help you determine your best, most convenient long-term Emsculpt treatment plan.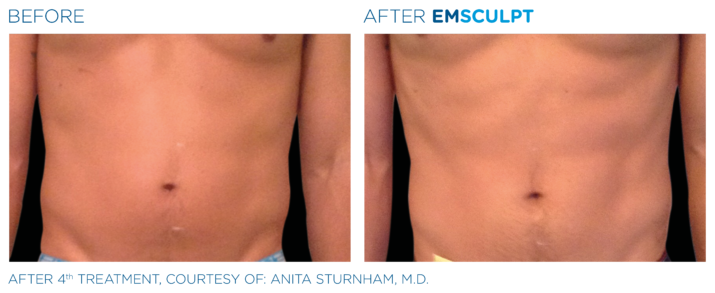 Cost
Emsculpt treatment pricing will vary based on the treatment area and number of treatments patients intend to receive. Your doctor will assess your case and work with you to customize your Emsculpt plan during a private, informative consultation. You will receive your procedure pricing breakdown once you have determined your treatment details.
FAQ
How long do the results of Emsculpt last?
The length your Emsculpt results will vary based on your level of physical activity over the months following your treatment. Many patients decide to touch-up their Emsculpt results six months after their initial round of treatments.
Is Emsculpt safe?
Yes! Emsculpt is safe and FDA-approved. High-intensity focused electromagnetic energy, or HIFEM, trigger muscle contraction but leave the surrounding tissues unaffected.
How does Emsculpt burn fat?
The HIFEM application stimulates a high level rate of muscle contraction, known as supramaximal muscle contractions. In order to accommodate these muscle contractions, your body raises its metabolism. As a result, your body breaks down your fat naturally. This level of fat-burning and muscle contraction are not possible at the gym!
Disclaimer:
CoolSculpting(R) is FDA-cleared to treat visible fat bulges in 9 areas of the body. Some common side effects include temporary numbness, discomfort, and swelling.