Microneedling
Consultations offered at our seven convenient locations in Brea, Costa Mesa, Glendora, Lancaster, Rancho Cucamonga, Whittier and West Hollywood
Microneedling is a non-surgical solution to clear away wrinkles, fine lines, hyperpigmentation, and mild to moderate scarring from your complexion. By making micro-channels in your skin, the body releases a cascade of restorative properties to rebuild the structure of your dermis from the inside out. Because of its simple yet effective application, our suite of microneedling procedures comes with minimal downtime – leaving you to continue your routine uninhibited by long recovery times. Our team at Skin Perfect Medical Aesthetics is proud to offer our clientele these wonderful procedures. However, a certain microneedling procedure may be better suited for your needs.
and expertly recommend a comprehensive treatment plan that achieves your ideal aesthetic. Be sure to visit our contact page to get in touch with our nearest offices!
Before and After Photos
Restoring Collagen Production
Collagen, the tensile, fibrous protein, keeps our skin elastic and smooth in our youth. But, as we age, our collagen production fades, causing our skin to wrinkle. While supplements and lotions say they'll boost your collagen levels, many of our patients report less than satisfying effects. The real secret to increasing your collagen production naturally is by revitalizing those semi-dormant collagen receptors – the ones that have weakened with age. Microneedling does just that. By using small needles to puncture the skin gently, the body recognizes this as a wound and activates a natural healing response.
Inflammatory Phase
The first phase of its response is the inflammatory phase, where nutrient-rich platelets flood the treated areas to heal the micro-channels. The body increases blood flow, clears away any granular debris, and supplies macrophages. These macrophages cells emit enzymes, cytokines, and numerous platelet-derived growth factors.[1] They also reignite the fire in our body's fibroblast cells – the cells that produce collagen.
Proliferative Phase
Within hours of the microneedling procedure, new tissue is beginning to form just under the surface of our skin. All of these new cells from the inflammatory phase begin to rebuild the wound and improve the skin's extracellular matrix (the interwoven bands and fibers of collagen and elastin that keep our skin smooth and taut). This process continues for a couple of weeks.
Maturational Phase
The final phase of our body's wound healing response is the maturational phase. The newly built skin tissue is complete and begins to contract. For treatment of larger scars, the scar gradually shrinks and fades in prominence. Over the course of the last few days, fibroblast cells have been depositing healthy collagen fibers steadily and will continue to do so for the coming weeks or months to restore homeostasis.[2] This means that our microneedling patients can expect to see their beautiful results continually improve long after their final session.
Treatable Conditions
Microneedling is perfect for patients who experience:
Wrinkles
Lax skin
Fine lines
Acne scars
Traumatic facial scars
Hyperpigmentation
Enlarged pores
Facial redness
Significant photoaging (sun damage)
Skinpen
As the first FDA-approved microneedling device on the market, Skinpen has quickly become one of the most popular skin-rejuvenating procedures in the cosmetic industry. The Skinpen is a small device that can target blemishes of any size. Clinically proven to treat all skin types, Skinpen is for patients who need a simple solution that doesn't interrupt their schedule.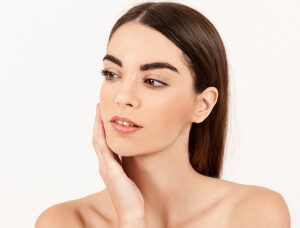 VirtueRF
VirtueRF uses the thermal power of radio-frequency to stimulate an even greater response in the inflammatory phase of the body's wound healing response.[3] This greater response leads to quicker results and may be more suitable for patients who have deeper wrinkles and scars. VirtueRF is safe for all skin types and can remedy a host of different skin conditions from loose, puffy skin to pockmarks and hyperpigmentation.
Vivace
Italian for "lovely", Vivace also uses radio-frequency energy but does so with the help of a robotically controlled motor that gently addresses the skin. Because of this robotically controlled motor, the needles can carefully glide in and out of your skin at the precise depth and speed to effectively emit the radio-frequency energy. Vivace is perfect for those interested in a "lovely," radiant appearance.
Sylfirm X
Sylfirm X has eight different modes that continuously pulse radio-frequency energy into the dermis. Because of these different settings, Sylfirm X can treat a wide variety of different skin conditions. If you would like to learn more about this or any of our other microneedling devices, please schedule a personal consultation!
Personal Consultation
Locally owned and operated since 2004, Skin Perfect Medical Aesthetics is proud to give our Southern California the best products and procedures in the cosmetic industry. From body sculpting procedures like CoolSculpting to an array of the latest dermal filler and injectables, we love helping our clients reach their dream aesthetic. 
Your Consultation
We will begin your private consultation with a brief new patient intake interview and a physical examination. Our goal is to learn about you and your areas of concern. We will examine your blemishes and note which one of our microneedling services would suit you best. Then, we will answer any questions you may have and determine how many sessions you will need to see your desired results. Before you leave our care, we will give you a list of preparatory steps that should be adhered to before each of your microneedling sessions.
Preparing For Your Microneedling Procedure
To prepare for microneedling it is best to:
Avoid using topical agents that increase skin sensitivity a few days before your procedure. This includes retinol and exfoliants.
Not take any anti-inflammatory medications such as Advil or ibuprofen as this will interfere with phase one of your body's healing response.
Re-schedule if you are experiencing a viral outbreak in the areas of treatment.
Avoid shaving the day of your procedure but rather the day before.
Avoid prolonged sun exposure for a few weeks before your session.
Recovery
After your microneedling session, your skin may feel a little tender and swollen. For those who opted for a radio-frequency treatment, your skin might appear red. This reaction is normal and is a sign that the body is currently in phase one of its healing response. Be sure to drink plenty of water and eat a healthy diet to give your body the best nutrition possible. Over the next couple of days, it is important to stay out of the sun and apply broad-spectrum sunscreen liberally when you go outside. Also, be sure to continue not taking any anti-inflammatory medications.
These will inhibit your body's healing response. You may resume your skincare routine a couple of days after your session but be sure not to use any retinol cream for the first few weeks. If you have any questions, please don't hesitate to ask. Many patients see the best results after three or four sessions spaced three weeks apart.
How Much Does Microneedling Cost In Southern California?
The cost of your microneedling treatment at Skin Perfect will depend on the number of areas treated and the number of sessions required to achieve your desired results. We will determine the price of your treatment plan during your consultation. Be sure to stay up-to-date on all of our current promotions. To stay informed on all things cosmetic-related, be sure to check out our blog! If you have any questions, please contact us. 
FAQ
What is microneedling?
Microneedling is a cosmetic procedure that uses millimeter-sized needles to create micro-channels in the skin. Since the mid-1990s, microneedling has effectively remedied many different skin conditions. With the advent and introduction of radiofrequency microneedles, this treatment is now able to address more severe conditions like deep acne scars and wrinkles. 
What does microneedling help with?
Microneedling is a safe, effective procedure for all skin types and helps with a wide array of blemishes. From uneven tone and texture to wrinkles and fine lines to acne scars and sunspots, different microneedling devices are perfect for different conditions. Finding the right one for you is important because one may offer you better results than another. 
How does microneedling work?
Microneedling stimulates the body's wound healing response. This response activates a wave of restorative properties to address the treated areas and revitalize the skin's structure. After a microneedling session, blood flow to the treated area has increased, bringing along nutrient-rich substances to regrow healthier tissue in the area. The body continues to deposit even more of these nutrients gradually over time. With repeated sessions, a patient can expect to see their skin continually improve over the coming months and stay radiant for a long time to come!
References
Sinno, H., & Prakash, S. (2013). Complements and the Wound Healing Cascade: An Updated Review. Plastic Surgery International, 2013, 1–7. https://doi.org/10.1155/2013/146764
Re-epithelialization: advancing epithelium frontier during wound healing | Journal of The Royal Society Interface. (2014). Journal of the Royal Society Interface. https://royalsocietypublishing.org/doi/10.1098/rsif.2013.1038
Weiner S. F. (2019). Radiofrequency Microneedling: Overview of Technology, Advantages, Differences in Devices, Studies, and Indications. Facial plastic surgery clinics of North America, 27(3), 291–303. https://doi.org/10.1016/j.fsc.2019.03.002