Ultherapy
Consultations offered at our seven convenient locations in Brea, Costa Mesa, Glendora, Lancaster, Rancho Cucamonga, Whittier and West Hollywood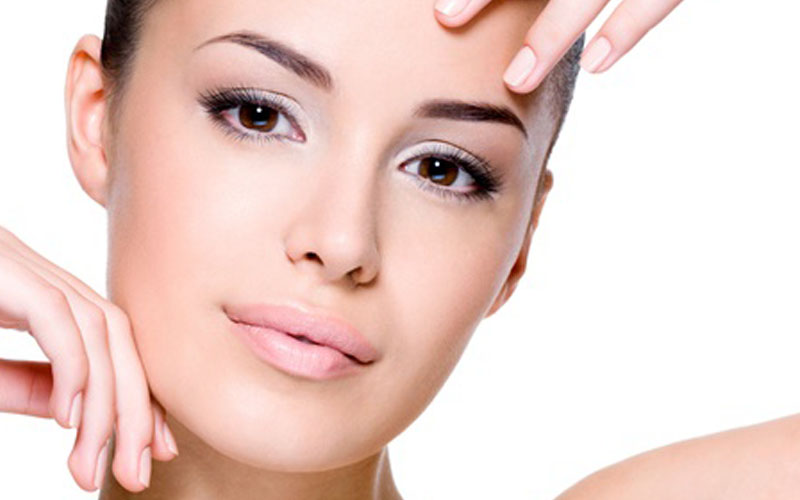 Did you know there is an anti-aging, facial rejuvenation treatment that lifts and refreshes like a facelift, yet requires none of the downtime or surgery? Ultherapy is a less-intensive, non-surgical facelift alternative for treating sagging and skin laxity around the face, neck, and decolletage. Ultherapy is an FDA-approved, high-focus ultrasound device that stimulates deep layers of skin to tighten and lift the treated areas, but doesn't disturb the surface of the skin. This treatment is ideal for those who want a quick and convenient, non-surgical option to address facial aging.
Patients who receive an Ultherapy treatment have been consistently delighted by their results. To learn more about this age-defying procedure, please contact Skin Perfect today!
About Ultherapy
Ultherapy requires little to no downtime, does not introduce foreign substances into patients' bodies, and delivers amazing-looking results.
Ultherapy is a non-surgical procedure that tightens and lifts facial skin to restore a youthful, rejuvenated appearance. Similarly to a facelift, this treatment lifts and tightens the skin around the neck and face. Ultherapy is a non-surgical procedure which penetrates the skin with ultrasound energy, effectively targeting deep tissues to reinvigorate your localized collagen production. This procedure precisely treats damaged tissues within the dermis and hypodermis without affecting the surface skin. As time progresses, the patient's skin continues to tighten and look healthier due to the restored collagen. However, patients will see the best results in about three to six months.
Ultherapy has been FDA-cleared and is established as a safe and effective skin rejuvenating treatment by clinical studies worldwide.
How Does it Work?
Ultherapy is a one-of-a-kind treatment that uses ultrasound waves to reduce the look of aging on the face, neck, and decolletage.
Once the procedure is in progress, the ultrasound waves target the deeper layers of the skin and trigger the body's natural healing response. The waves stimulate collagen and elastin creation. As the skin regenerates from within, the surface skin will slowly become more smooth and youthful. Boosting growth of new collagen helps reduce the look of aging by promoting healthy volume within the skin, which in turn fills in and smooths fine lines and wrinkles. The body is enabled to repair itself naturally and more effectively in the future.
Through this non-invasive procedure, we will treat the layers of tissue that have begun to lose elasticity and enable her patients to enjoy their slimmer, healthier, younger-looking appearance.
The Difference of Ultherapy
As patients age, collagen begins to decrease, leading the skin to become lax and start to sag.
While collagen helps to keep skin tight, toned, and young-looking, it tends to break down over time.
Unlike normal surgeries that penetrate the skin, Ultherapy uses the ultrasound to penetrate deep into the dermis and hypodermis without affecting surface skin or surrounding tissues.
Who is a Candidate?
Ultherapy treatment is used to correct subtle signs of aging naturally and without incisions.
Good candidates for this procedure are dissatisfied with sagging or lax skin around the face, neck or under the chin. Candidates may have considered a surgical facelift to attain a more youthful aesthetic, but would rather avoid an invasive surgical procedure. Patients who typically undergo this procedure are in their 30s or higher, as they are most commonly impacted by the effects of age, sun damage, etc.
During the consultation, our rejuvenation specialists can determine what treatment would be most beneficial, depending on the patient's case.
Patients who are recommended Ultherapy are typically looking to slow down the effects of aging without undergoing a more invasive surgical procedure such as a face or neck lift. Men and women who have mild to moderate skin laxity are also good candidates for this procedure; however, those who have severe skin laxity may be better candidates for more extensive treatment. Just like with any other cosmetic treatment, patients should have realistic expectations, be in good health, and have no underlying skin conditions. Ultherapy is not a face or neck lift, and it does not remove excess skin or fat from the neck or face.
Ultherapy vs. Dermal Fillers
Ultherapy lifts and tightens skin to treat facial aging.
Patients who want to lift their skin and create a more youthful aesthetic often decide to receive dermal filler injections. Dermal fillers contain gel-like material, often composed of hyaluronic acid that is used to add volume and reduce the visibility of lines and wrinkles. With dermal fillers, patients can achieve a more youthful appearance without surgery or significant downtime. However, the results achieved with dermal fillers do not last as long as those accomplished those with Ultherapy. This is because the material used in fillers tends to break down over time, lasting on average between 3-9 months, depending on the choice of filler.
Patients usually have to undergo recurrent dermal filler treatments to ensure the longevity of their results.
Patients who receive Ultherapy, however, report that they enjoy their revitalized appearance for over a year, depending on their dedication to healthy skincare and an active lifestyle.
Consultation
During a consultation, our anti-aging experts meet with the patient to discuss their personal goals and aesthetic concerns. At this time, the doctor will look at the patient's medical history, current skin conditions, and routine medications to ensure utmost patient safety.
After completing a physical examination, we will determine if Ultherapy is the right skin rejuvenating option for the patient. Once a patient is deemed a good candidate, we will construct a personalized treatment plan and quote.
Contact Skin Perfect Medical Aesthetics to schedule a consultation!
The Procedure
To begin the Ultherapy treatment, the applicator is placed adjacent to each of the target areas on the face, neck, or decolletage. When powered on, ultrasound energy penetrates deep into the skin to trigger the body's natural healing response. The temperature and penetration depth are closely monitored to ensure optimal results. This process is then repeated until the entire skin's surface of the treatment area is covered.
Depending on the extent of treatment required, each Ultherapy session usually lasts about one hour.
Patients report minimal discomfort, if any at all, during the procedure. Once an Ultherapy session is complete, patients will be able to return to their daily activities immediately.
Recovery
Once the Ultherapy treatment is complete, patients are immediately back on their feet and able to continue their daily routine. Some redness may occur and the treated area may be warm to the touch, but this will dissipate within a few hours.
With Ultherapy, there is no downtime.
Results
The results of Ultherapy are not instantaneous and require some time to become apparent. Over the two to three months following the treatment session, lifting and tightening will continue on the cellular level. Deep in the skin of the treated areas, the body's natural healing process is kicked into action by ultrasound heating. Processes such as neocollagenesis restore and repair skin by bringing fresh, new collagen to support the skin structure.
Sagging and skin laxity are repaired, resulting in tighter, more youthful skin.
Although Ultherapy can help turn back the clock on aging, it does not stop the future aging symptoms from occurring. Patients may require additional treatments in the future to maintain ideal results.
Additional Treatment
Every treatment provided by Skin Perfect is customized to each individual. In some cases, the patient's particular goals and anatomy may call for additional treatments. With Ultherapy, treatments such as Botox and Coolsculpting are also popular choices for combination therapy.
Botox
Wrinkles can start to form as early as the age of 30 in some individuals, so we recommend getting the jump on aging symptoms as soon as possible.
Botox, an anti-wrinkle dermal injection, can be combined with Ultherapy for comprehensive treatment for facial aging. Botox is an injectable that is made of botulinum toxin, which relaxes muscle contractions that tend to crease the skin and create wrinkles over time. Everyday actions such as chewing, frowning, and furrowing the eyebrows crease the skin. Over time, the repeated muscle contractions combined with the natural loss of skin elasticity due to age will result in permanent wrinkles. Botox works at the root cause of wrinkling and limits wrinkle-forming muscle contractions to preserve the patient's natural, youthful appearance.
Botox is administered via injection and may take as little as 30 minutes with results lasting three to six months.
CoolSculpting
Spot-reducing stubborn pockets of fat around the flanks and under the chin is notoriously difficult. Dieting and exercise tend to result in an overall fat reduction, but to get rid of fat from specific areas of the body requires special help.
With CoolSculpting, there is now a non-invasive, quick, and convenient treatment for spot-reducing fat and body sculpting.
Performed while the patient is awake and comfortably resting, CoolSculpting uses sophisticated cryolipolysis technology to freeze and break down your fat cells that are then naturally removed from the body. The procedure can take little as an hour and there is zero downtime! Once the treatment is finished, the patient is back on their feet without missing a beat.
Cost of Ultherapy
Depending on the personal needs and goals of a patient, their procedural costs will vary. The cost of the procedure will also vary if additional procedures are included. A customized quote is provided during a private consultation. Contact us to schedule your Ultherapy consultation!