PDO Thread Lift
Consultations offered at our seven convenient locations in Brea, Costa Mesa, Glendora, Lancaster, Rancho Cucamonga, Whittier and West Hollywood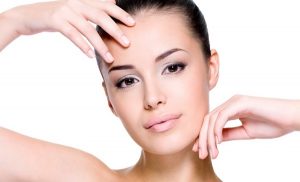 Could your appearance use a lift? Tighten, sculpt, and lift your facial skin with a non-surgical PDO Thread Lift. If the skin on your face or body has begun to droop due to aging, restore your features to a tight, youthful position with a PDO Thread Lift. A PDO Thread Lift is a non-surgical method of lifting the skin for attractive shape and volume.*
A PDO Thread Lift can be performed in under thirty minutes and requires almost no downtime, making it an ideal rejuvenating procedure. With only a few artful injections, a PDO Thread Lift can lift your neck, jawline, lower face, cheeks, brows, or under-eyes into a youthful, flattering position.
Ready to learn more about how you can achieve a more elegant your look with a PDO Thread Lift? Schedule a private consultation at Skin Perfect Medical Aesthetics today.
*Individual results may vary
What is a PDO Thread Lift?
A PDO Thread Lift is performed with biodegradable threads and a hypodermic needle. During a PDO Thread Lift, polydioxanone threads are delicately placed beneath the dermis to secure and lift sagging skin, promote collagen production, and achieve a tighter contour in the treated area.
A PDO Thread Lift will lift a drooping or oval facial appearance into a more flattering, smooth V-shape.
The threadlift is a convenient, effective rejuvenation option for patients who do not yet wish to or need to receive a more invasive skin tightening procedure, like a facelift. Similar to a facelift, a PDO Thread Lift restores the skin to a tighter, more youthful position. Unlike a facelift, the Thread Lift procedure is quick, minimally-invasive, and requires almost no recovery time for the patient!
A Thread Lift at Skin Perfect is a highly customizable procedure that can be used to tighten the skin on the neck or chin, tighten the jawline, reduce nasolabial folds and marionette lines, lift the brow, lift the cheeks, or reduce under-eye wrinkles. In order to achieve your preferred results, you may receive a combination of PDO Threads, or only a few PDO Threads may be required.
Results will last up to three years. After this point, patients can extend their results with a subsequent PDO Thread Lift.
The biodegradable threads used to perform your thread lift are made with Polydioxanone, a material used safely in orthopedics, cardiovascular surgery, tissue engineering, and plastic surgery for years. Polydioxanone will be broken down naturally by the body and expelled through the urine or exhaled in the form of carbon dioxide. Your PDO threads will be reabsorbed by the body within six months of your treatment.
When the PDO threads are introduced, the body will begin to repair itself around the thread. The placement of the thread will stimulate the production of collagen within the skin. Thanks to the added collagen and new healing process, your skin will form to the new position created by the threads. Improvements will be visible within two weeks. Within four to six months, the body will have broken down the PDO threads.
A PDO Thread Lift is a quick and comfortable procedure. You can receive your treatment over lunch!
Before & After Photos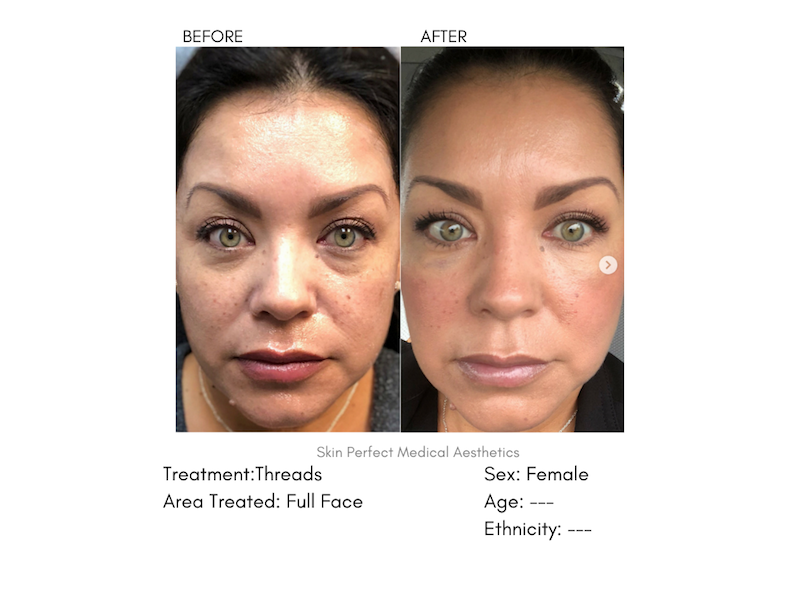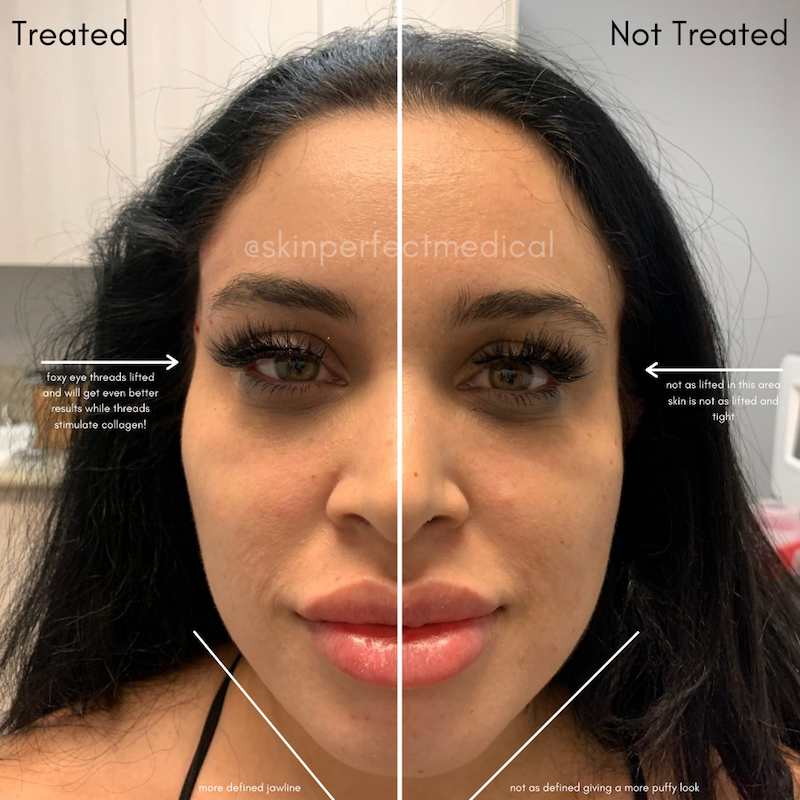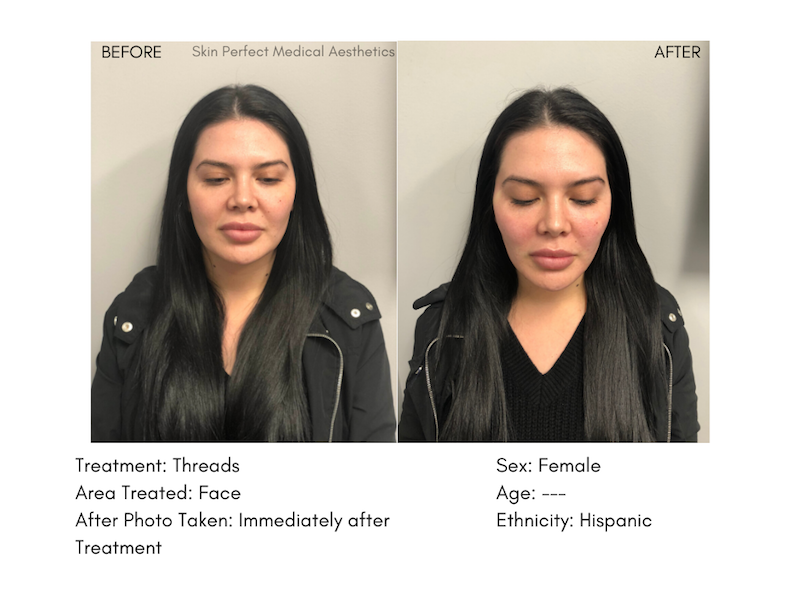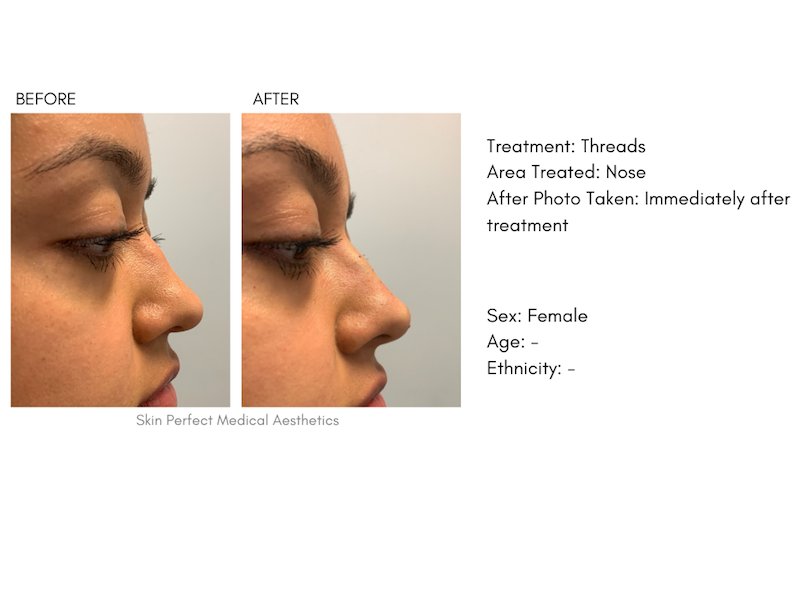 Why Choose the PDO Thread Lift?
The PDO Thread Lift is growing in popularity for many reasons. Patients love their PDO Thread Lift from start to finish because:
The results look natural. A PDO Thread Lift leaves no scars. The biocompatible threads will absorb into the body within four to six months of treatment.
It gives you the results you want. Whether you need a light lift or major improvement, your PDO Thread Lift procedure will be tailored to meet your goals and needs of your appearance.
The procedure can treat many areas. Patients can tighten and lift their lower face, neck, jawline, brows, cheeks, or areas of their body like their knees or stomach.
It is a perfect option for patients who want to address their facial aging without surgery. Patients who are not interested in or ready for a surgical procedure, like a facelift, can get long-lasting anti-aging outcomes with a PDO Thread Lift.
The treatment is comfortable. PDO Thread Lifts injections are quick and received under lidocaine.
Thread Lifts are versatile. PDO Thread Lift is easily combined with additional rejuvenating procedures, like Botox and fillers, for a one-stop complete rejuvenation treatment. PDO Thread Lift can also touch up results accomplished with an earlier surgery or procedure.
Very little downtime is required. Patients will want to avoid exaggerated facial movements for the first few days of recovery. Some swelling and bruising can occur, but patients are free to return to their daily activities same-day if they choose.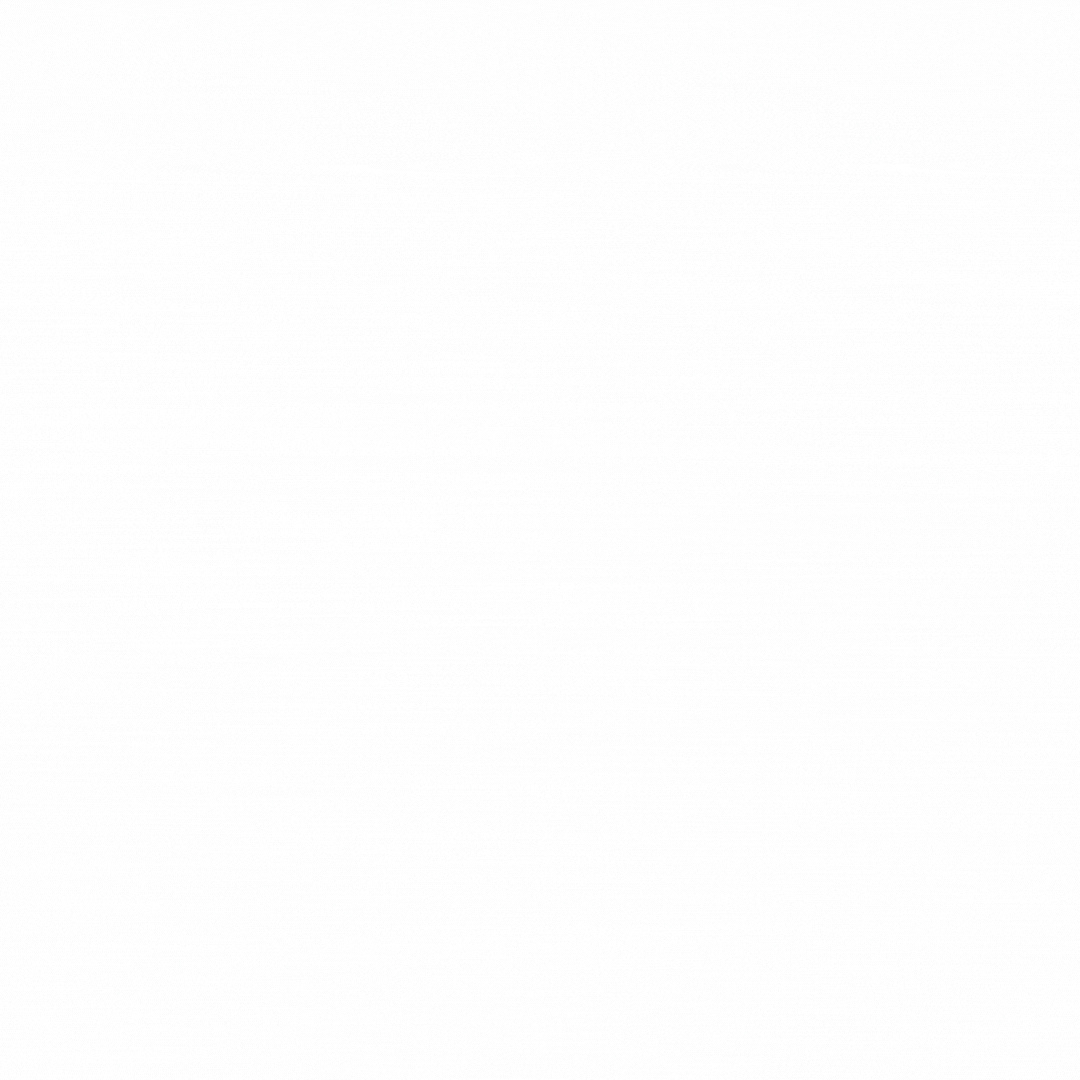 Candidates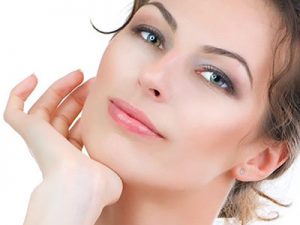 You are a candidate for a PDO Thread Lift if you have drooping, aging skin on your neck, chin, around your mouth, in the cheeks, on your brow, or around your eyes. PDO Thread Lifts are excellent options for patients who want to tighten their skin, reduce their wrinkles, and achieve a more lifted, youthful appearance. Patients who have drooping or excess tissue may be candidates for a soft tissue lift, where the softer tissues of the chin and lower face are lifted with targeted PDO Threads. Ideal candidates will still have a moderate degree of skin elasticity and will have realistic expectations for the outcomes achievable with a cosmetic procedure.
If you have a busy schedule and are not interested in or ready for a facelift, a PDO Thread Lift is a convenient, effective way to reverse the signs of facial aging. Candidates who would like to tighten skin on their body, such as their stomach or arms, can achieve their desired results thanks to PDO Thread Lift.
Patients will see their best results if they are non-smokers who are dedicated to maintaining a stable weight. Smoking and major weight gain can interfere with the outcomes achieved with a PDO Thread Lift.
Interested in a thread neck lift or thread forehead lift?
Call or text Skin Perfect Medical Aesthetics to learn more about if you qualify for a non-surgical facelift with PDO Thread Lift today. We offer a variety of convenient locations to help you find and receive a thread lift near you.
Consultation
Schedule a private consultation at Skin Perfect Medical to learn more about Thread Lifts and how they can add youthful, attractive lift to your face and body. We will be happy to answer any questions you may have!
Every Thread Lift is tailored to the unique patient.
During your consultation, we will examine your skin and go over your desired outcomes for your appearance. Once we have a good understanding of the health of your skin, we will work with you to create a custom rejuvenation treatment plan. We will discuss how many PDO Threads will be used to achieve your desired look, as well as discuss if you would like to receive additional cosmetic treatments to optimize your results.
Restore your youthful appearance with a personalized PDO Thread Lift.
Patients frequently combine a PDO Thread Lift with rejuvenating injectables like Botox and Dermal Fillers to add volume and smooth wrinkles, in addition to the lift achieved with their Thread Lift. Every treatment plan keeps the natural structure and motion of the patient's skin and features in mind. Our goal is to help you achieve the best non-surgical facelift results possible!
Call or text Skin Perfect Medical Aesthetics to schedule your private consultation to learn more today.
The Right Thread for You
The type of thread used during a Thread Lift depends on the unique needs of each patient. We offer three types of PDO threads:
Smooth
Smooth threads, or monothreads, are minimally invasive threads that promote collagen production around the thread. Smooth threads can be placed in a criss-crossed pattern to tighten the skin in the desired position. Smooth threads can also add youthful volume. If you would like to tighten the skin on your neck, forehead, or lower face, smooth threads can provide a highly effective solution.
Twisted
If you are looking to add volume and lift, twisted or corkscrew threads add valuable support to the structures of the skin. Twisted threads are often the best way to lift the skin of the lower face to achieve a tighter, more youthful contour around the jaw and mouth. Twisted threads can also help restore volume to sunken or gaunt areas of the face.
Barbed
Barbed threads can be administered alone or in conjunction with smooth PDO threads. The barbs help with lift and collagen production. Barbed PDO threads will help firm and reposition the skin into a tighter, lifted position.
We offer a variety of PDO Threads in order to achieve the preferred outcomes of every patient. If you have questions about a particular type of PDO Thread, like Novathread, we will be happy to speak with you during an informative consultation at Skin Perfect Medical Aesthetics.
PDO Thread Lift Procedure
A PDO Thread Lift is performed with lidocaine to guarantee patient comfort. Once your lidocaine is in effect, PDO threads will be injected into the desired area of the face or body to lift and tighten the skin into a smoother, youthful contour. The type, number, and placement of your PDO threads will depend on the details of your individualized treatment plan. Within four to six months of your procedure, the body will have dissolved your PDO Threads and accepted its new, tighter, more volumized appearance.
Patients will also receive recovery instructions to help them achieve the most comfortable recovery from their Thread Lift.
Recovery
Avoid too much exercise or any activity that can put a strain on your body for two to three days following your Thread Lift.
If you received lidocaine during your treatment, we recommend setting up a ride home with a friend or family member after your Thread Lift, as you should not drive. Post-procedure bruising and swelling are common but these conditions will improve within a few days of your PDO Thread Lift. Ice applications will help reduce any swelling. Patients can also take acetaminophen to reduce any discomfort. Avoid non-steroidal anti-inflammatory medications for the first 48 hours after your injection.
Try to keep exaggerated facial movements at a minimum for the first few days of your recovery. Laughing and extended talking or smiling may increase the chance of strain and discomfort during this period.
Results
You will see an improvement in the lift and contour of your skin within a week of your PDO Thread Lift. As your body produces more collagen to support the changes accomplished with the Threads, you will notice more youthful volume in the desired areas. With every passing week, your results will improve as the skin adjusts to its new position. Your body will dissolve your PDO Threads within four to six months.
Your PDO Thread Lift will leave skin lifted, tightened, and volumized, with results lasting up to three years. Patients can extend the results of their Thread Lift with subsequent treatments.
FAQ
Is a thread lift permanent?
Thread lifts accomplish results that last for up to three years. Patients who wish to achieve long-term improvement with their thread lift can receive another PDO Thread Lift at this point to extend their lifted, rejuvenated results. The PDO Threads will be dissolved and expelled naturally from the body within six months of the procedure.
Is a thread lift safe?
A PDO Thread Lift, when performed by a certified medical professional, is a safe, effective procedure. Bruising and swelling are common post-procedure, but are a normal part of the healing process and will diminish in the days following the Thread Lift. In the rare case that a thread shows through the skin or moves to a different position, they can be removed safely and easily.
How much does a PDO Thread Lift cost?
The price of your PDO Thread Lift will depend on the details of your individualized treatment plan. The cost of a PDO Thread Lift varies based on treatment area, type of thread, number of threads, and if additional rejuvenating procedures will be included. Once the details of your treatment plan have been determined, you will receive a cost estimate that reflects your personalized plan.