Latisse
Consultations offered at our seven convenient locations in Brea, Costa Mesa, Glendora, Lancaster, Rancho Cucamonga, Whittier and West Hollywood

Latisse is the first FDA-approved solution that is clinically proven to grow eyelashes. (1) This once-a-day topical treatment can help you achieve fuller lashes, enhancing your overall natural beauty. It's a simple, effective way to restore lash volume, length, and darkness with zero hassle. Patients who feel self-conscious about their sparse eyelashes can use Latisse with confidence, and see visible results in a matter of weeks!
At Skin Perfect Medical Aesthetics our team of medical experts provides aesthetic treatments and procedures to help you look your best. With offices across Southern California, you can book a personal consultation at the location closest to you. Book your appointment and speak to us one-on-one to find out if Latisse is the right choice for you. Fill in an online inquiry form, call or text us today!
Rancho Cucamonga: (909) 281-9020
West Hollywood: (323) 373-3149
Eyelash Enhancement With Latisse
Bimatoprost 0.03% solution, the medical name for Latisse, was originally only a treatment for the eye condition glaucoma (a condition that causes increased pressure in the eye). Its maker Allergan, the same company that produces Botox, first established it as a cosmetic lash-enhancer in 2012.
The Hair Growth Cycle
Every hair on our bodies has a follicle that anchors the hair to the skin and provides it with the necessary nutrients for growth. Hair goes through a continuous cycle that has distinct phases:
Anagen Phase (Growth) – This initial stage of hair growth, may span 3–6 years. Adenosine triphosphate (ATP) helps to fuel hair growth and blood supply to the hair via the bulb provides nourishment and enables growth.
Catagen Phase (Transition) – During the catagen phase, the hair follicle detaches from its blood supply. The follicle is reabsorbed and the hair stops growing. This phase takes approximately 2–3 weeks.
Telogen Phase (Resting) – The hair follicle recedes completely during the telogen phase. A new hair starts to grow to replace the previous one.
Exogen Phase (Shedding) – Shedding occurs in the final stage of the hair cycle, by which time a new hair has replaced the previous.
How Does Latisse Work?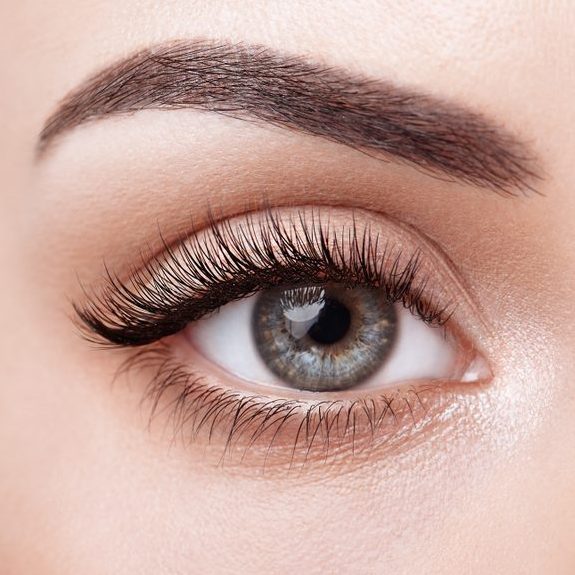 Latisse is an effective treatment for the growth of healthy eyelashes and increases eyelash length in just a few weeks! (2) The active ingredient in Latisse is a lipid compound called bimatoprost. Although the exact mechanism is not known, this substance is believed to affect the anagen phase of hair growth in two ways; increasing the length of this growth phase and increasing the number of hairs that develop.
Hypotrichosis
Some individuals experience a condition that causes reduced lash growth, known as eyelash hypotrichosis. This condition may be a result of multiple factors, including aging, heredity, physical trauma, alopecia areata, and chemotherapy. Studies demonstrate that Latisse treatments significantly improve eyelash prominence for people with hypotrichosis. (3)
Benefits of Latisse
Luscious Long Lashes!
Convenient for All: Latisse solution is a once-nightly treatment you apply topically to the base of your upper eyelashes, as instructed by your provider. There are no time-consuming in-office procedures!
Proven Active Ingredient: Latisse makes lash growth possible because of its active ingredient; bimatoprost. It is thought to affect the growth phase of the eyelash hair cycle in two ways: (1) it increases the length of this phase, (2) it increases the number of hairs in this growth phase.
Fast Noticeable Results: Latisse works from the inside out. As the treatment progresses, you'll first begin to see changes in length. Gradually, you'll notice more thickness and pigment in your lashes. After week 16, you should see the full effect of Latisse treatment.
No More False Lashes: Many women hide sparse eyelashes with false strip lashes or lash extensions. These can be time-consuming to put on, and aren't reliable when it comes to them staying in place. Latisse treatment helps your natural eyelashes reach their full potential so you can say goodbye to your false lashes for good!
Personal Consultation
Every Skin Perfect location offers you the opportunity to come and speak to us for a one-on-one consultation. During your appointment, you can tell us your cosmetic aspirations and desired treatments. We'll examine your eyelashes and see if Latisse is right for you. Afterward, you'll be given a prescription-strength bottle of Latisse with disposable applicators. That very evening, you can start your journey toward achieving thicker, longer, darker lashes!
How to Use Latisse
Latisse is easy to use, just follow these simple instructions:
Ensure your face is clean before application.
Remove eye makeup and contact lenses.
Place one drop of Latisse (bimatoprost ophthalmic solution) 0.03% on the disposable sterile applicator supplied.
Apply Latisse evenly along the skin of the upper eyelid margin only. Target the base of the eyelashes with the applicator.
Blot any excess solution where necessary with an absorbent cloth.
Dispose of each applicator after a single-use.
Repeat steps 1-6 for the opposite eyelid, using a new sterile applicator.
It is important to follow all directions carefully regarding the home use of Latisse. This treatment is only intended for the upper eyelid and is not designed for lower eyelid use. Only one application is required, and the best time to do this is at night. Adding more than the recommended amount of Latisse will not increase eyelash growth. Please ensure you use a separate disposable applicator for each eye and refrain from using any other application method. If you have any questions regarding the application of Latisse, please get in touch with us!
Results
With continued daily use, Latisse can achieve outstanding aesthetic results. Your Latisse treatment You may start to see more length in as little as 4 weeks and you should achieve full growth in around 16 weeks. Please note that discontinuing treatment will return eyelash growth to its pre-treatment level.
Corresponding & Complementary Procedures
Dermal Fillers & Injectables
Enhance your facial beauty with Latisse and one (or more) of our wide range of injectables! Choose from hyaluronic fillers like the Restylane range, calcium-based microspheres Radiesse, neuromodulators like Botox, Juvéderm, and Dysport, or a PDO Thread Lift. You can also find out about targeted treatments such as Kybella for double chin and volume-boosting Sculptra.
Facial Treatments
Find the best facial treatments to realize your beauty aspirations. From anti-aging to acne, we've got your skin treatments covered! Skin Perfect offers a range of Chemical Peels, Laser Genesis, Microneedling, and more for smoother, more youthful-looking skin. Get a refreshed, revitalized look by combining one of these treatments with Latisse.
Laser Hair Removal
While Latisse is for growing hair, there's still a need for us to remove undesirable hair from various different areas of our bodies. As you enhance your eyelash hair with Latisse, consider a Laser Hair Removal treatment to remove hair from where you don't want it!
Cost of Latisse
Skin Perfect offers real eyelash growth in prescription form from Latisse. As every patient has different requirements, the cost of your treatment will depend on the amount of Latisse your eyelashes require. Be sure to keep an eye out for monthly discounts on our Promotions page!
Stay up-to-date with the latest procedures and products at Skin Perfect by reading our blog and following us on Facebook, Instagram, Twitter, and YouTube!
FAQ
How long does Latisse's treatment take?
A lot of people don't realize that Latisse is a simple at-home treatment you do yourself. After your doctor has authorized its use, you can apply Latisse to your upper eyelashes once a day at night time. Most people find their application takes just a few minutes.
Does Latisse have any side effects?
Though rare, adverse events can occur with Latisse. The most common were eye pruritus (itchiness), conjunctival hyperemia (eye redness), skin hyperpigmentation (darkening), ocular irritation, dry eye symptoms, and erythema of the eyelid (redness), which occurred in less than 4% of patients. 
Can I use Latisse if I have an eye infection?
Prescription Latisse for eyelash growth is safe for most people, however, you may not be able to start using it if you have certain eye conditions such as conjunctivitis. 
Can I use Latisse every other day to make it last longer?
It is not recommended to use Latisse in any other way than directed by your doctor. The formula has been clinically tested and produces optimal results with daily use.
References
Law, S. K. (2010). Bimatoprost in the treatment of eyelash hypotrichosis. Clinical Ophthalmology (Auckland, N.Z.), 4, 349–358. https://www.ncbi.nlm.nih.gov/pmc/articles/PMC2861943/
Bitton, E., Courey, C., Giancola, P., Diaconu, V., Wise, J., & Wittich, W. (2017). Effects of LATISSE (bimatoprost 0.03 percent topical solution) on the ocular surface. Clinical and Experimental Optometry, 100(6), 583–589. https://doi.org/10.1111/cxo.12507
Mao, C., Bruce, S., Wirta, D., Yoelin, S., Lee, S., Borchert, M., & VanDenburgh, A. (2016). An evaluation of the safety and efficacy of bimatoprost for eyelash growth in pediatric subjects. Clinical Ophthalmology, 419. https://doi.org/10.2147/opth.s89561