Microneedling
Consultations offered at our six convenient locations in Brea, Costa Mesa, Glendora, Lancaster, Rancho Cucamonga and Whittier
Today, there are many options for revitalizing the skin's surface. One of the foremost procedures is Dermapen microneedling. The microneedling pen creates small, consistent microchannels on the skin's surface to initiate the body's natural wound healing response. This in turn produces healthier skin and initiates increased collagen production for ultimate revitalization.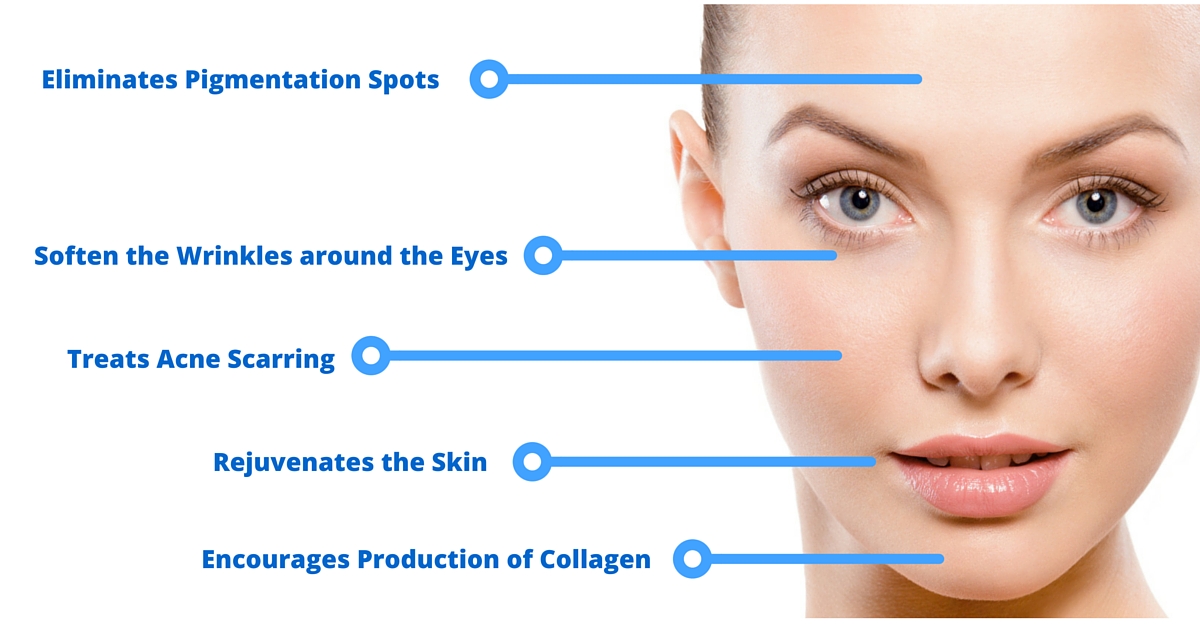 Are you ready for younger looking skin free of wrinkles and scars? Ready for a smoother, more even complexion? Contact Skin Perfect in Whittier or Rancho Cucamonga and schedule a Dermapen microneedling consultation.
About Dermapen Microneedling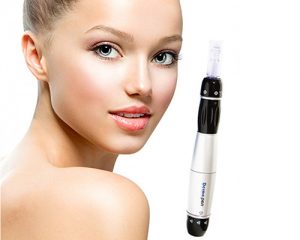 Dermapen microneedling is a non-surgical way to rejuvenate the skin by stimulating and increasing the body's natural collagen production. It can help diminish the appearance of fine lines, wrinkles, scars, pigmentation, and other complexion concerns.
The concept behind the Dermapen is simple: the pen renders nearly imperceptible microchannels to the outermost layers and the skin, which triggers a healing response. This healing response stimulates collagen production and the development of new healthy skin, effectively taking years off the face for a younger, invigorated appeal.
Perhaps best of all, the procedure requires little to no downtime, is very cost-effective, and requires no incisions or anesthesia. This makes it a great anti-aging tool for busy men and women looking to rejuvenate their appearance.
Before and After Photos
How Does the Dermapen Work?
The Dermapen is an electric hand piece that commands tiny needles. When powered up, the needles will start to vacillate at a rate of almost 110 rotations per second. When placed on the skin this creates tiny perforations in the skin's surface and triggers a healing response which produces collagen – a key ingredient in keeping the skin looking young and healthy.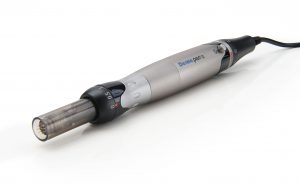 The Dermapen can work at various depths in order to correct different skin problems. The needles can penetrate the skin from anywhere between .25mm to 2.5mm. The smallest penetration levels are typically used in order to create openings in the skin through which topical treatments can permeate the dermis or to improve skin texture and the appearance of pores. Deeper penetration will help correct the appearance of scars, wrinkles, and stretch marks.
What Can Microneedling Treat?
Fine lines
Wrinkles
Scarring from acne or trauma
Stretch marks
Uneven complexion
Pigmentation
In order to find out whether or not a certain skin condition or imperfection can be treated with microneedling, please schedule a consultation with one of our treatment providers in Whittier or Rancho Cucamonga, CA.
Treatment Areas
Although the Dermapen is most frequently used for treatment on the face, it can also be used to treat skin related issues on other parts of the body. One popular treatment spot is the midsection in order to diminish the appearance of stretch marks. However, Dermapen microneedling can be used in most places where there is scarring, stretch marks, or other skin imperfections.
Benefits of the Dermapen
Stimulates natural collagen production
Easily adjustable needle depth
Minimal downtime
No scarring
Safe and effective
Little to no discomfort
Can be particularly effective when combined with other topical treatments
Added skin tightening benefits
Controlled, uniform results
Very few potential side effects
Procedure
In most cases, it is recommended that patients receive more than one treatment for optimal results.
Most people find the Dermapen treatment procedure comfortable. If the patient is interested in receiving a topical anesthetic, they should plan on allotting an extra 30-45 minutes prior to their treatment to allow for the anesthetic to take effect. Our practitioners will work with the patient in order to determine how to make them most comfortable.
The treatment will be performed in either our Rancho Cucamonga or Whittier offices and typically takes less than an hour, depending on the treatment locations and size. Following the procedure, patients are allowed to apply light, breathable makeup if they wish to resume their normal routine. However, they should be sure to stay out of direct sunlight and wear sunscreen. Side effects, including redness and swelling, will persist for one to two days.
Combined Treatments
Microneedling is not necessarily a revolutionary procedure as it has been in use for some time. However, what sets Skin Perfect's practice apart from others is how we artfully combine topical treatments with Dermapen microneedling to achieve dramatic results. By combining topical treatments with Dermapen microneedling, treatment serums can access deeper layers of the skin and work to remodel collagen and provide nutrients the skin at a more profound level, thereby offering extraordinarily enhanced results.
Currently, we offer three different topical treatments to be combined with Dermapen microneedling.
Biopelle: This intensive serum significantly decreases and prevents visible signs of skin aging by increasing collagen and elastin production. It furthermore helps stimulate cell growth for regenerative effects.
Anteage: The Anteage serum combats redness, dark spots, enlarged pores, and fine lines and wrinkles with its somatic cell stimulation and healing benefits.
Autologous Conditioned Plasma: A serum created from the patient's own enriched blood to stimulate skin regeneration and rejuvenation.
We are also currently working on incorporating additional serum to help with hair growth and combat stretch marks. Feel free to ask about any of our combined treatments at the time of the consultation.
Recovery / Results
Many patients find that they require no recovery following their Dermapen microneedling procedure. Typically, the only side effect is a slight redness around the treatment area. If a patient wishes to return directly to their normal routine, they are welcome to cover the area with a light, breathable makeup.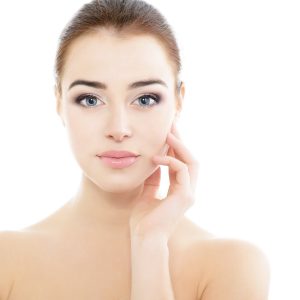 For deeper treatments, patients may need to take one to three days in order to fully recover from their Dermapen microneedling treatment. During this time, the patient will experience redness and perhaps some swelling on the treated areas.
All patients should be sure to avoid direct sunlight and, if they do go outside, be sure to utilize sunscreen. The results from a Dermapen procedure are seen after about a week and a half and can last up to six months.
Most patients will not be able to achieve their desired results in just one treatment. We start most patients with a package of three treatments, depending on their goals. For more significant scarring and stretch marks, we may recommend five to six treatments. Treatments are generally scheduled about one month apart from each other.
Good Candidates
In general, patients should be in good health and nonsmokers. Smoking can seriously impact patient's ability to heal and their final results.
Good candidates for Dermapen microneedling are patients who wish to correct signs of fine lines, wrinkles, stretch marks, scarring, or an uneven complexion. More and more patients are getting treatments done earlier as a preventative measure against these skin issues. However, there is no "best age" to start getting microneedling treatments. It is also safe to be performed on all skin colors.
Patients should have reasonable expectations for the outcome of the procedure. One of our practitioners will provide the patient with before and after pictures of other patients so that they know what to expect following treatment.
Alternative Procedures
At Skin Perfect, we are proud to offer alternative procedures to address an array of skin conditions and concerns. With any procedure, it is important to speak to an experienced dermatologist in order to determine the best treatment for an individual's case.
Chemical Peels
At Skin Perfect, we offer chemical peels in order to help combat issues such as wrinkles, fine lines, sun damage, scarring, and discoloration. We offer a variety of different peels at varying strengths in order to suit our clients needs.
Chemical peels work by using an acid solution to remove damaged layers of skin. Depending on the type of peel that the patient receives, it can take anywhere from a day to a couple of weeks for the patient to fully recover.
Laser Genesis
Laser Genesis is a noninvasive laser therapy that rejuvenates the skin by decreasing the appearance of discoloration, fine lines and wrinkles, and large pores. The procedure utilizes lasers to heat the dermis, below the skin's surface, and promote collagen renewal. The collagen, in turn, promotes a healthy glow and even skin tone.
Most people find this procedure very calming, if not therapeutic, and enjoy the added benefit of no downtime. However, like microneedling, patients will need to wear sunscreen following treatment and it will likely take multiple sessions in order for the patient's final goals to be achieved.
Consultation
The majority of patients interested in microneedling are good candidates for the procedure. Nonetheless, all patients are required to come in for a consultation prior to receiving any new treatment at Skin Perfect.
During a consultation, the patient will address their concerns, whether it be scarring, stretch marks, an inconsistent complexion, or simply overall rejuvenation. Frequently, patients are interested in skin rejuvenation without the need for laser treatment.
One of our skilled practitioners will work directly with the patient to help develop a highly customized treatment plan to address the patient's concerns and provide them with optimal results. We encourage patients to ask questions about Dermapen microneedling or any other procedures that they may be interested in.
Pricing
The cost of a Dermapen microneedling procedure will depend on the extent and location of the patient's case. After performing an examination during the consultation, our skilled practitioner will be able to give the patient a quote for their treatment.
Find out more about the benefits of Dermapen microneedling by contacting us to request a consultation at either our Whittier or Rancho Cucamonga office.