Is your skin suffering from your fun-filled, sun-filled beach days, tanning out by the pool, or some morning hikes? Is your skin feeling dry? Maybe you can't get back to your normal smooth skin? Or is your skin feeling a little bit more congested than usual?
Soaking in the hot weather is something that can cause your skin to get on the dryer side, cause pigmentation and alot more! No need to panic Skin Perfect Medical's CREEPIN it real this halloween with 10 ways to get your spooky skin back to normal..
1. No tricks, just treats
Drinking enough water helps the body to flush out toxins while giving you healthier skin. Water also can increase blood flow to the skin which gives it an even tone.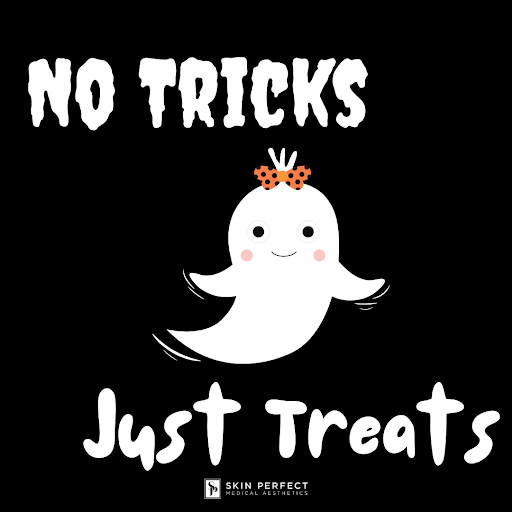 2. Don't wake up to resting witch face
Cleaning your face before bed can help with build up, cleaning all the oils gathered throughout the day (this happens even if you don't wear makeup!). While cleaning your skin, your pores open and are able to breathe which allows your skin to not be congested.
Are you noticing wrinkles and aging from spending your summer under the sun? Scare them away with Botox or Dysport at Skin Perfect!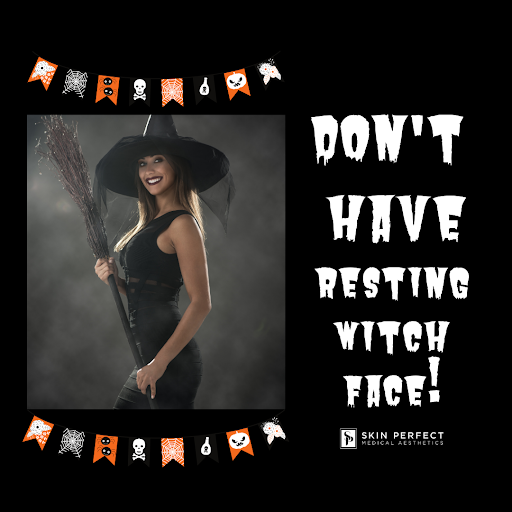 Find out more about what cleanser would work best for your resting witch face!
3. Potions and lotions
Moisturizing everyday can reduce the chance of developing extreme dryness or oiliness, which can cause acne. Using a daily moisturizer like iS Clinical's Reparative Moisture Emulsion can ensure that the skin's blemishes are camouflaged, leaving your skin soft and smooth!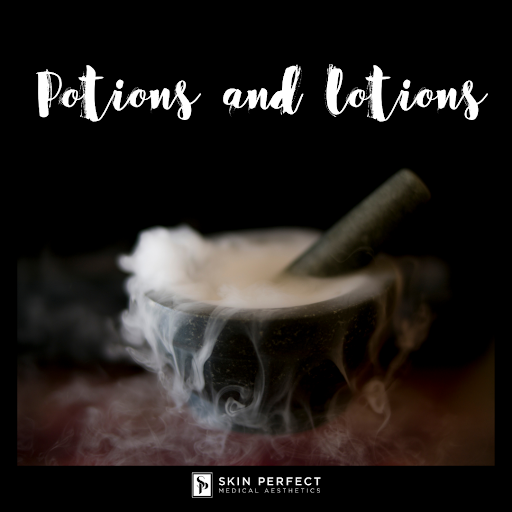 See what Potions and Lotions we have for your skin!
4. What lies behind the mask..
Face masks are best with a glass of wine in hand, letting them takeover and do their work. If your skin is on the dryer side, this is a perfect way to get your skin hydrated and feeling refreshed in minutes!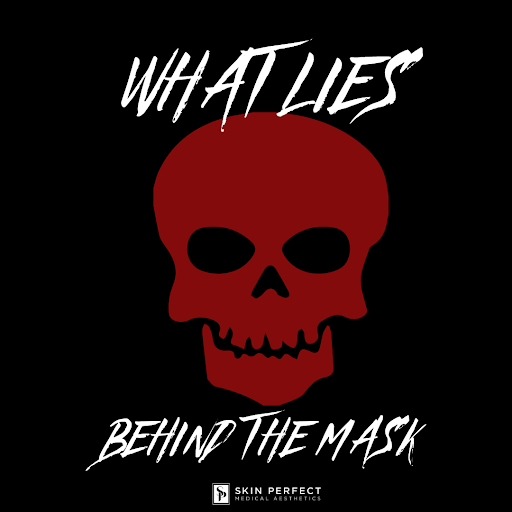 What mask are you going to be wearing this Halloween?
5. Mummy microneedling
Microneedling is a procedure that uses small needles to prick the skin. The purpose of treatment is to generate new collagen and skin tissue for smoother, firmer, more toned skin. Microneedling is mostly used on the face and may treat various scars, wrinkles, and large pores. You can give your microneedling a boost by pairing it with PRP or exosomes/stem cells at your local Skin Perfect Medical.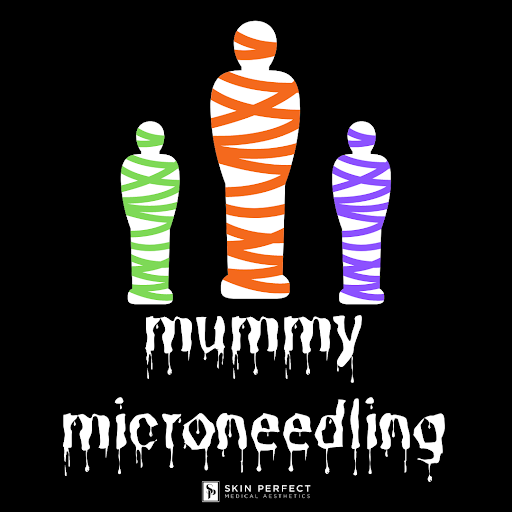 See what our Mummy Microneedling is all about!
6. Have some BOOtiful skin
With consistent facials, your skin will be left feeling its best, whether you are just coming in for a microdermabrasion to exfoliate the dead skin off or for a HydraFacial to get an overall glow, your skin will thank you for the monthly maintenance!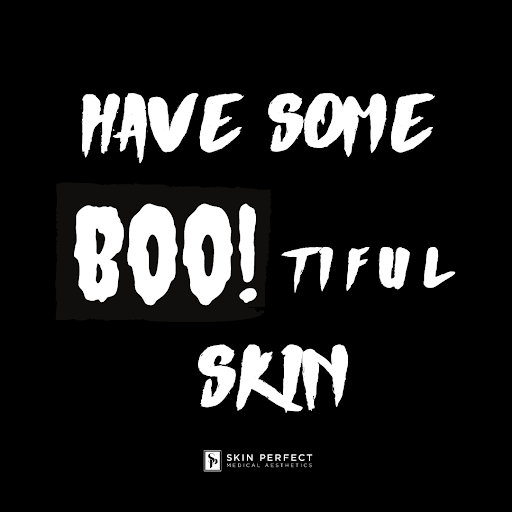 See our facial selections for your BOOtiful skin!
7. Remember the ghoul times!
Aside from clearing away dry and dead skin, a regular exfoliation habit increases the skin's radiance, clarity, and youthfulness, and that's just the start. Reach out to your local Skin Perfect Medical clinic for a recommendation on the best exfoliating product for you.
8. We put a spell on you..
Our CO2 resurfacing laser will literally leave you with brand new skin! This laser helps minimize sun damage, acne scars, and fine lines, and improves skin texture and skin tone. Stimulates collagen for firmer, more youthful skin. May help treat precancerous skin lesions. Minimal downtime.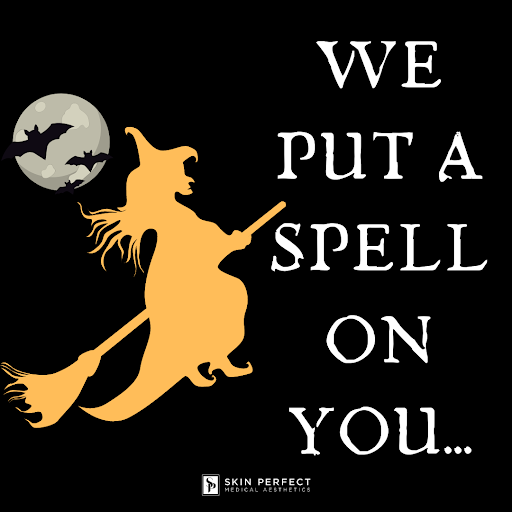 Need some resurfacing we got a spell on you…with all our CO2 options!
9. Don't be a haunt mess..
Get your skin silky smooth with our dermaplaning and chemical peels! Dermaplaning will help take off all that facial fuzz and dead skin followed by a chemical peel altered to your skin's needs.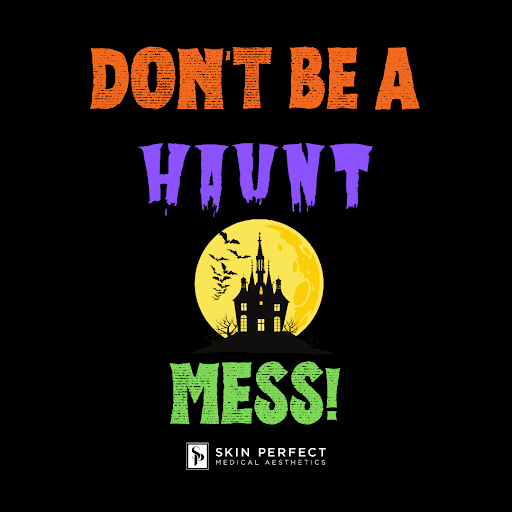 Don't be a haunt mess this halloween and check out our chemical peels!
10. Have FANGtastic skin
Skin Perfect's Hollywood Peel is going to leave you with glowing youthful looking skin, improved overall skin tone, smoother-feeling skin, and reduction in appearance of fine lines and acne scars. With no downtime, this gentle laser treatment can be performed over and over. Available at our offices in Rancho Cucamonga and Whittier.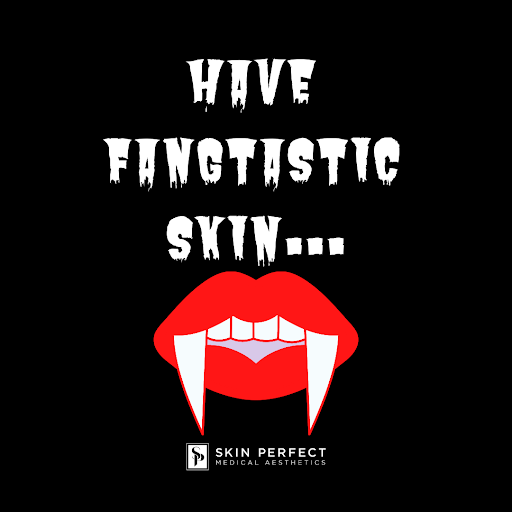 Who wants to see our Fangtastic options for your skin??