Valentine's day is around the corner, and why not get those perfect kyssable lips just in time for your valentine? With our different options of lip filler we invite you to come in for a complimentary consultation so you leave with the lips that you have been wanting!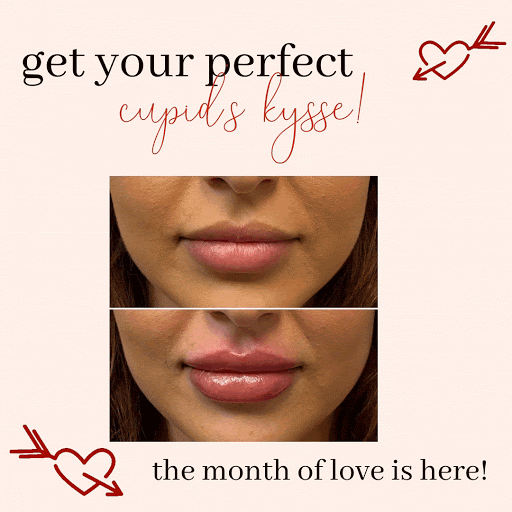 Start your Valentine's Day with a Kysse!
Kysse provides a soft look that moves with your facial expression! The unique cross-linking of the hyaluronic acid molecules in Kysse gives it the perfect balance of structure and flexibility making it perfect for adding definition to the border and achieving a perfect, natural-looking pout.
Set a date with Defyne! 
Getting treated by Defyne will create a skin that looks younger and tighter and glowing. Defyne, is a thicker, firmer filler that could create a more plump, more luscious lips.
Just in love with Juvederm! 
Juvéderm is a fantastic solution that minimizes lines and creases while allowing you to get that perfect plump pout in your lips!
Here's some tips when deciding on which lip filler to get..
Choose your Injector wisely! – Most people don't know that this has A LOT to do with how your lips will come out. You want to make sure you and your injector are on the same page with things so that there is no miscommunication but rather a clear understanding on what you want your lips to look like in the end.
Choose your product that will suit you best! – We all want the new hip thing or what our friend got in their lips… but in some cases the reality is some lip fillers are best suited for others and may not be the right fit for you! This is so important to be able to trust your injector because they can guide you in the right direction and recommend the perfect product for your lippies!
Do your research! – Although injectors will go over everything with you, you still want to be able to feel confident in what is potentially getting put into your lips! Researching before your appointment will allow you to ask unanswered questions and give you even more clarity when coming in! 
Be Prepared! – Be prepared for the swollenness of your lips! We always remind patients that they are going to be swollen and your lips will take about 5 days to a week to fully settle. Good things take time, although we gravitate towards instant gratification it's important to not freak out when you wake up to swollen lips but rather to remember to apply your Arnica and remind yourself they are going to settle and you may even end up wanting more!
Selfie Time! – Make sure you are prepared for all the selfies you are about to take after your lips settle! You won' t be able to stop looking at them!
Have you heard and RSVP'd for our Cupid's Kysse Event? See Below for more information 🙂 
Skin Perfect Rancho Cucamonga 
February 11, 2021
10:00 AM – 5:00 PM
By appointment only!
(909) 281-9020
Skin Perfect Whittier
February 11, 2021
9:00 AM – 5:00 PM
By appointment only!
(562) 278-3202
Skin Perfect Costa Mesa
February 11, 2021
9:00 AM – 5:00 PM
By appointment only!
(714) 278-3506
Skin Perfect Brea
February 16, 2021
10:00 AM – 5:00 PM
By appointment only!
(714) 278-3501