Revance RHA
Consultations offered at our seven convenient locations in Brea, Costa Mesa, Glendora, Lancaster, Rancho Cucamonga, Whittier and West Hollywood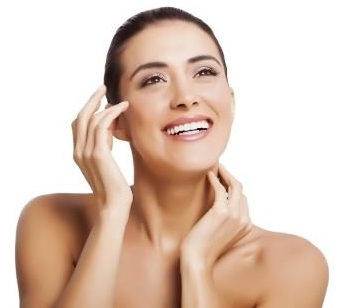 RHA Revance is a family of hyaluronic acid fillers that are FDA-approved to treat dynamic wrinkles around the nose and mouth. Dynamic wrinkles occur when you make certain facial expressions, like raising your eyebrows, smiling from ear to ear, and furrowing your brow.
Regardless of how well we're taking care of our skin, we're eventually going to notice a wrinkle or fine line in our appearance. While there are hundreds of products on the market to help stave off these notable signs of aging, lotions and creams don't quite reach the deeper layers of our skin. We want natural-looking results, and we want to feel good in our skin. To smooth away these dynamic wrinkles, SkinPerfect offers the Revance line of hyaluronic acid fillers. Revance fillers are specially designed to treat areas that bend, compress, and contract often. If you are interested in complete facial rejuvenation, schedule a personal consultation at one of our Southern California offices. Go to our locations page to find the nearest offices to you! With SkinPerfect offices in Brea, Costa Mesa, Glendora, Lancaster, Rancho Cucamonga, West Hollywood, and Whittier, we are bound to have a location not too far from you. 
The Effects of Aging on Our Skin
While we can see the impact of aging right in front of our faces, it's imperative that we understand the ​​physiological changes of aging, so that we can best identify what we're treating. Every person's skin is different. In our youth, our skin has a bountiful supply of collagen, elastin, and hyaluronic acid. Fibroblast cells in the deeper parts of our dermis produce fresh collagen, while hyaluronic acid molecules keep these fibers tensile and moisturized. In fact, 50% of our body's hyaluronic acid supply is found in our dermis.[1] However, these restorative properties wane and weaken as we get older. Our overall skin composition becomes wrinkled and looser as our skin's collagen fibers lose their integrity. Lifestyle choices like a poor diet and smoking exacerbate this process, as does stress and sun exposure.
Our aging giveaways lie in the drooping of soft tissues and deepening of the nasolabial folds.[2] Whether we've maintained a rigid sunscreen routine since we were teenagers or ignored the signs of aging for the better part of a decade, tailored facial rejuvenation can bring back the youthfulness we may feel we've permanently outgrown.
The Revance Radiance
Our bodies produce less hyaluronic acid as we age. To keep our appearnce looking youthful and radiant, our skin needs moisture to maintain hydration and balance. We can support this effectively by strategically adding hyaluronic acid to our anti-aging regimen. Hyaluronic acid is a sugar molecule that is produced naturally by the body. This molecule locks in water and plumps the skin. By binding to and retaining water molecules, hyaluronic acid repairs tissue and lubricates our skin's internal structures, allowing the face to move freely and naturally.[2]
For heightened effectiveness, hyaluronic acid has been crafted into resilient dermal fillers to produce immediate, predictable, and natural-appearing results.[3] By introducing the natural compound to our skin through safe and simple superficial injections, we can restore that necessary hydration and balance for a radiant appearance. At the forefront of these injections stands the Resilient Hyaluronic Acid (RHA) collection by Revance. This FDA-approved line of products is designed to adapt seamlessly to the dynamic demands of the face.  
The RHA Line
To best provide this hydration, the RHA line of fillers was designed to copy our current soft tissue makeup and work in tandem with our facial movements. The Revance manufacturing process preserves hyaluronic acid polymers in their most natural state. This process produces a filler with organic attributes that closely fit our skin's natural properties. Different parts of our face need different approaches to treat dynamic wrinkles. Revance's specialized formulas are often used in tandem to provide varying levels of support. The list of RHA fillers includes:
RHA 2 operates as a superficial placement, designed for moderate facial wrinkles.
RHA 3 balances stretch and strength to correct more severe folds and offer increased versatility.
RHA 4 evens deep facial compartments, adapted for deep wrinkles and volume loss. [4]
Depending on one's characteristics and concerns, there's an appropriate RHA filler combination that integrates into existing tissue, accompanying dynamic facial movements to provide a seamless and streamlined visual experience. We will determine which combination of RHA is ideal for you and your desired results.
Revance vs. Other Facial Rejuvenation Methods
If you've ever been disappointed with the fleeting results of an off-the-shelf elixir that promised wrinkle reduction, or youthful rejuvenation, you're not alone. Due to this lack of effectiveness, these products aren't deemed alternatives to dermal fillers because they're unable to deliver reliable outcomes.
On the flip side, fat grafting is more expensive than dermal fillers and there's no guarantee that a graft will "take" as desired. Similarly, surgical implants require days off work to focus on recovery and a lengthy preparation process. Before these big alterations become permanent, we routinely recommend a patient first try dermal fillers. Because injections carry a lower risk, little to no discomfort, short recovery times, and offer more flexibility across the board, they're a reliable resource for those seeking noticeable results.[2]
Your Consultation
The first step on this journey of rejuvenation is to schedule an initial consultation at one of our 7 SoCal locations. During this consultation, we will conduct a new patient intake interview and an examination. We will want to learn about all of your cosmetic concerns. With our wide array of cosmetic services, we may have an additional or alternative treatment that is better suited for your individual needs. Once we determine a personalized approach, we will give you a list of preparatory steps to follow before your treatment. This will include avoiding blood-thinning medications a couple of days before your Revance session and coming into our offices with a clean face. If you have any preparation questions, be sure to ask during your consultation! 
What to Expect with RHA Fillers
We will begin your procedure by applying a local anesthetic in the target areas. Since only a local anesthetic is utilized, you will be able to leave our offices under your own power and resume your daily activities as normal. Once the area is numb, we will inject the wrinkles and folds strategically with the appropriate RHA filler. We might use more than one filler to achieve your desired results. This part of the procedure only takes a half-hour at most. Once we inject the RHA filler into your skin, we will massage the solution so that it promotes an even, balanced appearance. After we have treated each one of your cosmetic concerns, you will be free to leave our care and return to your daily routine. RHA sessions really are that easy!
Other Types of Hyaluronic Acid Fillers
For those who would like to treat static wrinkles and fine lines, we do offer other hyaluronic acid fillers that might be more tailored to treating your needs. One of the most popular hyaluronic acid fillers is the Juvéderm family of fillers. With different fillers for different purposes, the Juvéderm family of fillers is perfect for those looking to treat volume loss, age-related lines, and under-defined features like thin lips. If you'd like to see how Juvéderm can enhance your appearance, be sure to schedule a personal consultation today!
Recovery & Results
After your session, you will notice apparent results gradually improve for the next couple of days. Immediately after leaving our care, your face will still be numb and maybe even a tad tender for the rest of the day. Continue to avoid blood-thinning medications like Advil or ibuprofen during this time. After a couple of weeks, as the hyaluronic acid reinvigorates the skin's structural support, your dynamic wrinkles will gradually fade. Your skin will appear younger and more moisturized while your skin becomes smoother. And, Revance lasts. Unlike other dermal fillers, RHA Revance results can last up to 15 months!
FAQ
How Much Does RHA Revance Cost in Southern California?
We use a different amount of RHA filler for each client and the cost of your care will depend on  how much filler is used. We will discuss and determine the price of your treatment during your consultation. If you have any questions, feel free to contact us. If you would like to stay up to speed on all things happening in the cosmetic industry, be sure to visit our blog!
References